- Harry Potter and Ginny Weasley, two of the most beloved characters in the Harry Potter series, surprised fans as photos of their reunion in New York City circulated around the internet
- Daniel Radcliffe and Bonnie Wright, who played Harry and Ginny respectively, reunite for a brief period in New York City to celebrate Radcliffe's latest Broadway play 'Privacy'
- The iconic photo has been liked over 100,000 times on Instagram and has received over 3,000 comments
It has been five years since fans all over the world said a tearful goodbye to the beloved 'Harry Potter' franchise. The wildly successful seven book series authored by J.K. Rowling spawned eight movies in total. Harry Potter fans grew in number as each installment featured a complex storyline, exquisite cinematography, and fine performances from all its actors.
Apart from all the cinematic revelry, fans were treated to some unusual pairings crafted by Rowling, none more surprising than the Harry Potter-Ginny Weasley tandem. Fans saw the pair last as they lovingly looked on their children onboard the Hogwarts Express which was pulling out of platform 9¾.
Last Friday, July 22, Potterheads erupted in excitement as Bonnie Wright posted a picture of her and Daniel Radcliffe. The two played the roles of Ginny Weasley and Harry Potter respectively.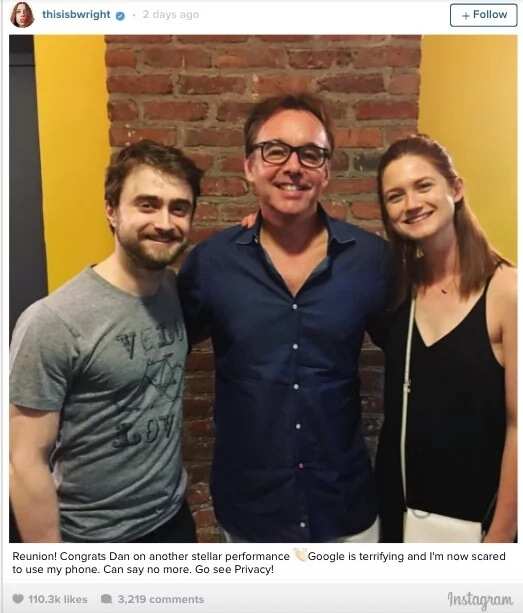 READ ALSO: The show must go on? Find out what happened to a trained owl in new Harry Potter show
Wright captioned the photo with: "Reunion! Congrats Dan on another stellar performance ?? Google is terrifying and I'm now scared to use my phone. Can say no more. Go see Privacy!"
Radcliffe also posted the same photo in his own account with the caption: "Reunion! #HarryPotter #Privacy @thisisbwright @chrisc1492" 
Sandwiched in between the two young stars is two-time Harry Potter director Chris Columbus.
Columbus followed suit and posted "Chamber Of Secrets reunion... The future Mr and Mrs Harry Potter... #harrypotter"
READ ALSO: J.K. Rowling approves of 'black Hermione'; slams racists
Radcliffe's recent play 'Privacy' is based on former CIA employee Edward Snowden's leakage of classified information from the National Security Agency in 2013.  The play "unravels the complication that happened with technology and security".
In his new role, Radcliffe portrays "the deep loneliness of a guy who is trapped in the whirlwind of modern technology".
Radcliffe branched out to stage acting in 2007 by starring in the London and New York production of 'Equus'. In 2011, he played the character of J. Pierrepont Finch in the Broadway revival of 'How To Succeed in Business Without Really Trying'.
Wright, on the other hand, continued working onscreen and has also dabbled in stage acting and now owns her own production company called Bon Bon Lumiere.
READ ALSO: LOOK: New Harry Potter and the Cursed Child photos revealed
Source: Kami.com.ph