- A couple in Minsk, Belarus was seen having sex on a pavement meters away from the road during broad daylight.
- Residents heard 'loud moans' as the young couple perform the act without feeling any shame of doing it in public.
- People who have seen the couple suggested that romance struck the young couple who were on their way home after a night out.
The image of a young couple is going viral as they have been caught performing sex on a pavement, just a couple of meters away from the main road during broad daylight in Minsk, Belarus.
Some of the residents of Minsk in Belarus stated that the apparent 'loud moans' created by the couple have woken them up from their deep sleep. Moreover, the residents were suggesting that the couple were already heading on their way home after a night out but romance struck them and they decided to just do it in public, without fear of getting caught or without feeling any shame at all.
The guy was seen wearing a black Nike jumper while his trousers were pulled down all the way to his ankles as he held his girlfriend who was seen bare-bottomed and touching the floor. Locals further stated that the two were probably drunk because they seemed not to care doing it in public.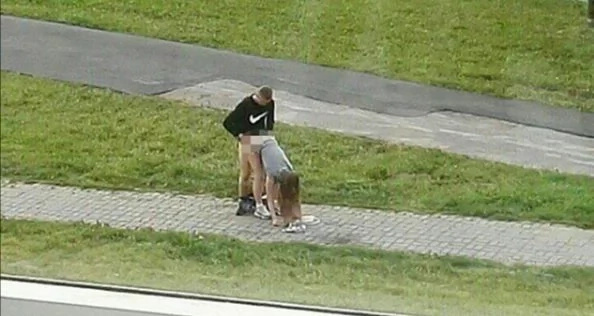 READ ALSO: These 10 Movies had real sex scenes!
With this kind of sight early in the morning, one shocked resident took a photo and posted it on Twitter. The post has gone viral in a matter of hours and netizens turned the photo into a popular meme.
"This is a famous photo from Sukharevo. I wonder what was left out of sight," one witness stated.
The couple could face a heavy fine for 'hooliganism'- a disruptive and unlawful behavior such as rioting, bulling, and vandalism- if the both of them will be identified and caught by authorities.
READ ALSO: Shocking: Parents hire this man to have sex with their underage daughters!
Further, the woman who posted the photo in social media might be fined as well if she is proved to be disseminating pornography.
The photo has garnered attention in social networking sites and one netizen commented, "Just do it". Another commenter posted, "You never know when love and passion will hit you. Hit you hard." - NB, Kami Media
READ ALSO: Another Teenage girl gang-raped in daylight and who can stop it?