- A video compilation showing giant snakes attacking humans has gone viral
- Giant snakes have no venom but their speed, agility, size and strength make them dangerous and deadly for humans
- The video compilation shows the dangers of interacting with pythons and anacondas
Giant snakes such as pythons and anacondas are not venomous like cobras, black mambas, and rattlesnakes. However, they are still capable of hurting and killing humans due to their great size and strength.
A video compilation of 10 giant snake attacks on humans caught on video has become viral. These video clips could help people become more aware of the dangers of interacting with these monster reptiles.
The first clip shows a giant snake attacking a girl during a reality show episode. A word of advice: do not join a reality show that would force you to reach inside a box with a monster python. Like the girl in this video, that reptile might wrap itself around your arm and crush your bones.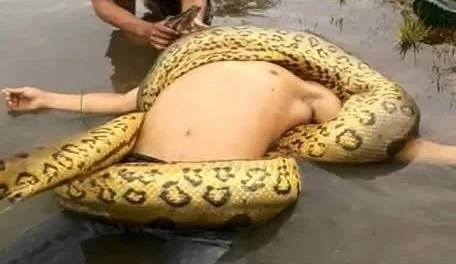 READ ALSO: Girl finds a giant snake in the pool, what happens next will shock you!
The second clip shows a team of tough-looking soldiers trying to put an even tougher-looking 24-foot anaconda inside a cage. The anaconda had other plans as he bit with full force the arm of one of the soldiers. It took three men to release the soldier's arm from the snake's jaws.
The third clip shows a giant snake doing the two things it does best: constricting its prey's body and biting it. This poor fellow is lucky to have other people in the area to help him out.
The fourth clip involved a group of men thinking that one anaconda is no match for their combined strength. The anaconda quickly proves that it is wrong to underestimate its ferocity.
READ ALSO: 5 Creepy crawlers' attacks that will make you scream
The fifth clip is downright terrifying, as two men fight for their lives. A few more seconds of having an anaconda wrap its body around the neck of the man could have killed him.
The sixth video also shows the power of a giant snake especially under water where humans are more vulnerable to their attacks.
The seventh clip shows how foolish it is for a person to take a python near his face. The man looks like he was bitten right on his eye.
READ ALSO: What these snakes can do will creep you out
The eight clip is a great display of the speed of a giant snake. Just one second of losing your focus around a python could mean a world of hurt later.
The ninth clip shows that the toughest men could become great squealers when encountering an anaconda.
And finally, the last one shows that snakes are conservative when it comes to a woman's way of dressing herself.
READ ALSO: 4 cobra tried to enter family's home; what this pet dog did will make you cry
Source: Kami.com.ph