- After 25 days in office, President Rodrigo Duterte has finally signed an Executive Order requiring public disclosure of information from all government offices
- However, exemptions will be granted in accordance to the 1987 Constitution and information pertaining to national security
- In 2014, the freedom of information failed to pass in the House of Representatives
In a press conference in Davao City this Sunday Morning, Presidential Communications Office Secretary Martin Andanar stated that President Rodrigo Duterte has signed an Executive Order (EO) on the Freedom of Information, mandating all government offices to disclose all public information.
Andanar added that the executive order was finalized Satruday night, after struggling for 29 years to strengthen freedom of information.
'We are now holding a final copy of an EO on the FOI... After 29 years of fighting to strengthen the right to freedom of information,' Andanar said.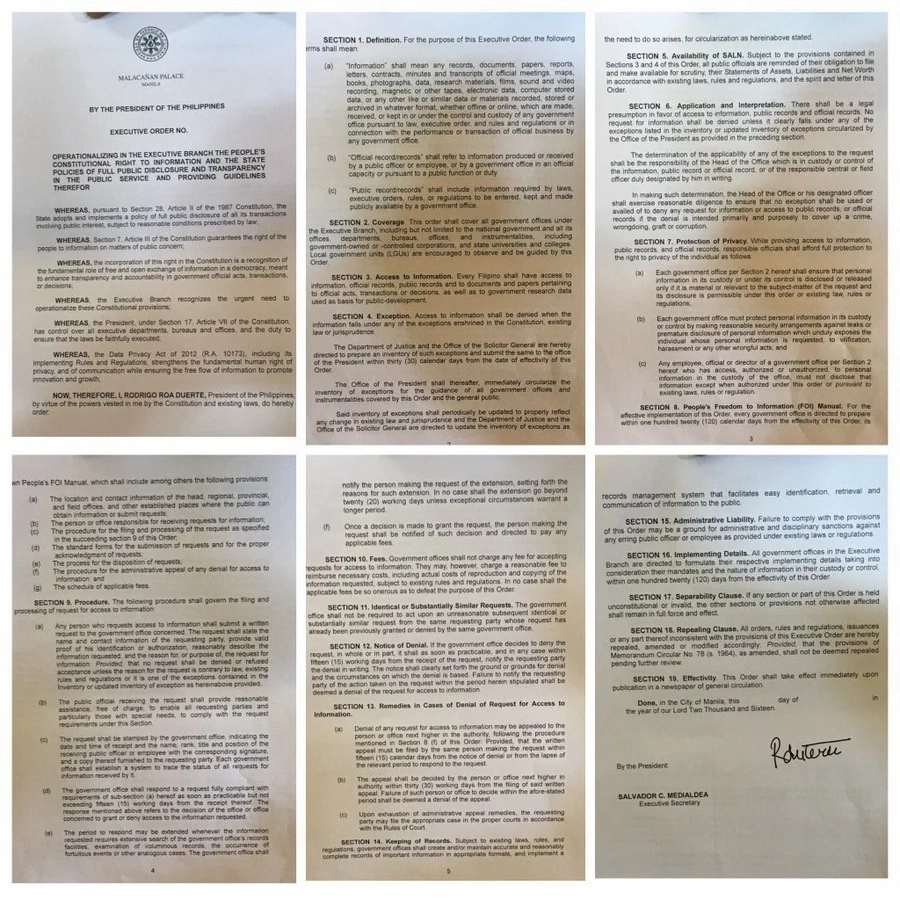 The freedom of information was passed in the 16 Congress in 2014, but failed in the House of Representatives despite being a top priority of former President Benigno Aquino.
READ ALSO: LOOK! FVR is the new envoy to China
According to the Communications Office Secretary, it only took 25 days for the Duterte Administration to complete and implement the executive order.
Some provisions within the executive order declares that each Filipino is entitled to access to information, official records, public records, documents related to official acts, transactions, or decisions.
Information will not be granted only under the basis of the 1987 Constitution.
READ ALSO: What do Duterte and Trump have in common? Read his recent statements on terrorism to find out
Public Officials who refuse to provide the information requested by any citizen will be liable for administrative and disciplinary action.
Citizens may obtain the free information by presenting a written letter of request containing proof of identity, type of information, and purpose of request.
Meanwhile, the Office of the President (OP) will be provided a list of exemptions. According to the executive order, a list of exemptions will be prepared by the Department of Justice (DOJ) and the Office of the Solicitor General (OSG) in the next 30 calendar days.
READ ALSO: What's in it for PH to honor Paris Agreement?
'The OP shall thereafter immediately circularize the inventory of exemptions for the guidance of all government offices and instrumentalities covered by this order and the general public,' Andanar said.
The DOJ and the OSG will also be governing bodies who will screen information that may affect national security.
Duterte was sworn into the Office of the President last June 30 and will be addressing the nation on July 25. -Kami Media
READ ALSO: Is the implementation of curfew really working? Here's what Belmonte thinks
Source: Kami.com.ph