- San Miguel emerged victorious when Marcio Lassiter nailed his last three point shot during San Miguel Beermen and NLEX game
- AZ Reid and Lassiter took on the deciding play with a pick-and-pop, leaving the latter free in the left wing
- The Beermen won with only a 1-point lead at 94-93
Despite his poor shooting performance for the duration of the game, Marcio Lassiter did not let it bug him as he tried to score a three with only a few seconds left in the clock, leading the San Miguel Beermen to victory against NLEX at the Smart Araneta Coliseum on Friday, July 22.
Lassiter disregarded his 0-of-3 three-point percentage before taking the shot as he thought of how all of his previous failed attempts would not affect his next one. He had enough confidence with himself which pushed him to head on and did not hesitate.
The winning shot came from his pick-and-pop play with import Arizona Reid, with the latter managing to free space for Lassiter in the left wing when he took the double team.
READ ALSO: PBA gets a 24-hour basketball network with PBA Rush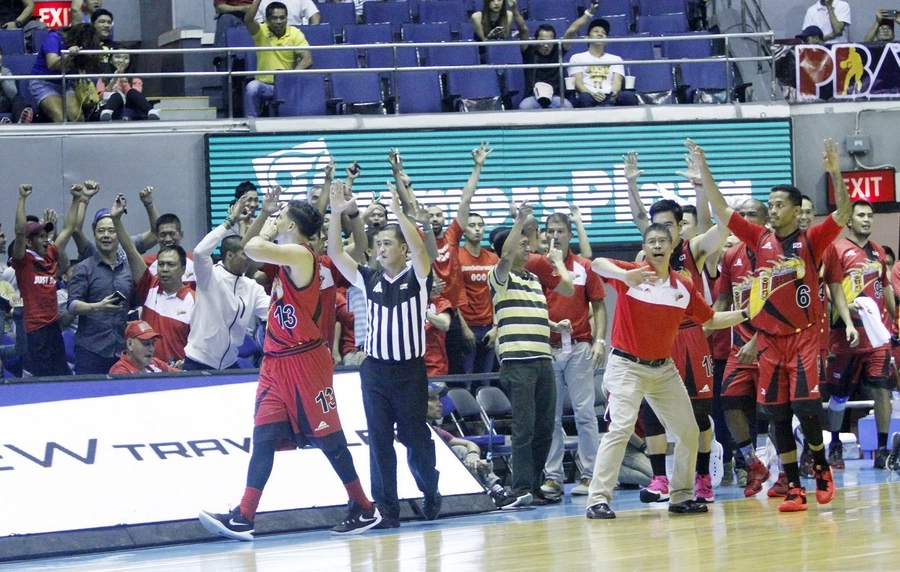 In an interview, Lassiter shared that he was aware of how he has missed all of his threes but urged himself to continue shooting – adding that he was 'not taking bad shots.' Solely focusing on the play, Lassiter nailed the dagger which propelled their team to seal the deal with 94-93.
Prior to Lassiter's final shot, the Road Warriors were ahead with 93-88 with over a minute remaining. San Miguel's point guard Alex Cabagnot closed the gap with a transition triple at the 27-second mark, leaving NLEX with only a 2-point lead at 93-91.
With the ball successfully going inside the basket, Lassiter said he was able to breathe a 'huge sigh of relief' following his earlier troubles from beyond the arc, noting how it 'came at the right time.'
READ ALSO: San Miguel Beermen off to a good start with AZ Reid
Lassiter ended the game with only 8 points on 3-of-10 field shooting, but had a good performance on rebounds as he was recorded with nine.
As for Reid, he finished ahead of his team with 23 points and 11 rebounds, followed by Cabagnot with 19 points.
San Miguel Beermen's win over NLEX Road Warriors has shaved them an early lead in the PBA Governors' Cup.
READ ALSO: PHOTOS: Meet the 1st female referee in PBA history!
Source: Kami.com.ph