- President Rodrigo Duterte said that terror group Islamic State (IS) is a product of desperation, even criticizing the invasion of Iraq in 2003 which led to Saddam Hussein's execution
- Duterte further explained that terrorism in the Philippines is not as grave as that in the Middle East where terrorist groups were more oppressed
- Saddam Hussein was convicted of crimes against humanity, and was sentenced to death by hanging in 2006
Terrorist group Islamic State, formerly known as the Islamic State of Iraq and Syria (ISIS) won't be what it is today if not for the death of Saddam Hussein and Muammar Gaddafi, according to President Rodrigo Duterte.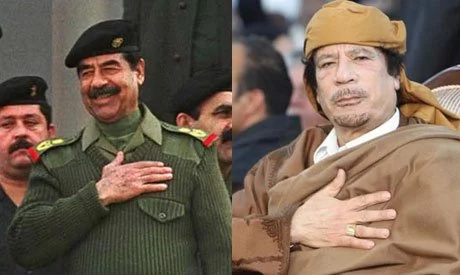 In a speech in Buluan, Maguindanao, Duterte criticized the invasion of Iraq by a coalition led by the United States to aggressively topple down Hussein. The invasion led to the dictator's capture and eventual execution in 2006.
Duterte carried on and claimed that the IS "is a product of desperation", associating its rise to both Saddam and Libyan dictator Gaddafi's death.
READ ALSO: Army group in Turkey attempts coup; Find out how gov't is responding
Republican nominee Donald Trump also had the same sentiments over the controversial Iraq invasion. He said that the United States shouldn't have "destabilized Iraq", while also praising its deposed leader for "killing terrorists".
Both Saddam and Gaddafi were condemned for their brutal regimes. Saddam was specifically charged with genocide, killing thousands of Iraqis during his term.
However, Duterte said that terrorism in the Philippines is not as grave as that in the Middle East. Despite the presence of ISIS in Mindanao, the President pointed out that in the Middle East, the terror group was more oppressed than those in Mindanao.
READ ALSO: Duterte wants war in Mindanao to end; vows to find way to end conflict
"Eh bakit man tayo magsunod [sa ISIS] na wala man tayong inapi-api na tao dito, wala naman tayong binomba…Sino ba ang papayag niyan? (Why would we follow [ISIS] when the people here were not as oppressed, we didn't bomb their communities….Who will allow that?)," said Duterte.
Meanwhile, Duterte has been vocal about its advocacy to instill peace in Mindanao. Recently, he approved a "peace roadmap" which would hopefully address the peace issue in the South.
Along with the roadmap, other efforts are also being done. Peace adviser Jesus Dureza proposed development projects which will allow the people on the ground level to feel the effects of the peace efforts. He explained: "I can sign a hundred peace agreements but if those on the ground do not immediately feel the dividends of peace, those agreements will not be sustainable."
READ ALSO: Duterte calls rebel leader Misuari to discuss Peace Roadmap
Furthermore, peace talks with Communist Party of the Philippines-New People's Army-National Democratic Front (CPP-NPA-NDF) are set to resume on August 20 to 27.
Source: Kami.com.ph