- Delamar Arias is saying goodbye to "The Morning Rush", a morning show she hosted for two decades
- No detailed information has been released with regard to her leaving the show, but many believe that she will be doing another entertainment medium
- The Morning Rush first aired on July 1996 with Delamar and Chico Garcia as the original hosts
On July 22, one of the most famous radio DJ in the Philippines announced that she would be leaving one of the long-running weekday morning radio show by Monster Radio RX 93.1.
DJ Delamar Arias surprised the listeners on Friday when she announced that she would soon be saying goodbye to "The Morning Rush" (TMR). In a tweet she posted, she said that she actually had 19 months of notice and that she has done all she could to make it work. Delamar said that her last sting with the show will be on July 29, Friday.
While Delamar did not give any reason for her departure, she assured the listeners that she will not be moving to another radio station nor is she travelling or migrating outside the country.
Delamar and co-host Chico Garcia have been responsible for TMR for 20 years, since it first aired on July 1996. Then, by 2011, they were joined by Gino Quillamor in 2011.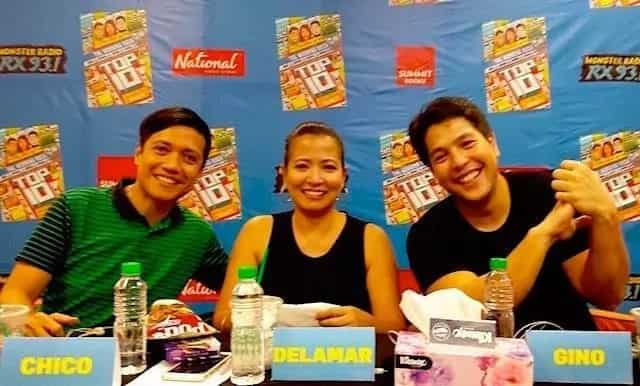 READ ALSO:LOOK! International media outlets BBC, ABC to transform PTV4
Garcia and Quillamor also stated that Delamar's departure would be "just for radio." This somehow gives off the hint that the DJ will be doing a show on another entertainment medium.
TMR has been a much-loved radio show due to the on-air chemistry shared between Chico and Delamar and then with Gino. The listeners were called "Rushers" and were given all kinds of treat every weekday as the hosts talked about anything they can think of. The hosts also engaged the listeners most of the time.
Delamar has gained a following of her own and has even landed projects, including being the cover of magazines Smart Parenting and Uno and a hosting stint at ABS-CBN's now defunct show "F." She also had guest appearances on "The Ryzza Mae Show" and "Gandang Gabi Vice".
READ ALSO: 8-12 working hours set for media practitioners
Rushers also resorted to social media to express their opinion with regard to Delamar's departure.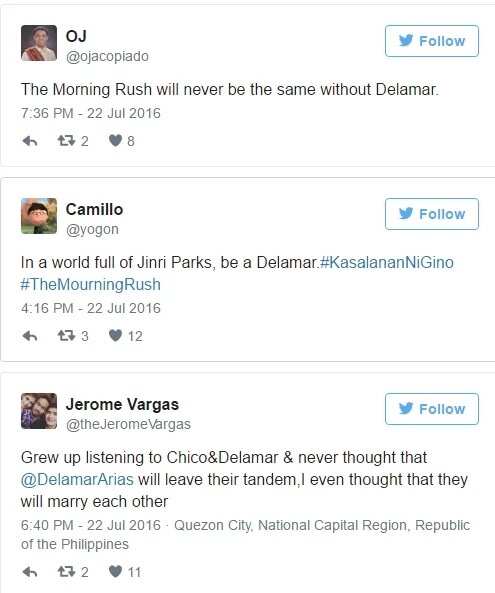 Bea Fabregas will be replacing her.
READ ALSO: DZMM website hacked, possible data leak
Source: Kami.com.ph