- Pampanga Representative Gloria Macapagal Arroyo postponed her plans to visit her hometown of Lubao due to health concerns
- Arroyo will instead visit Lubao after the first State of the Nation Address (SONA) of President Duterte
- The Supreme Court dismissed the plunder charges against Arroyo because of lack of evidence
Recently acquitted former President Gloria Macapagal Arroyo cancelled her supposed visit to Lubao, Pampanga, her hometown.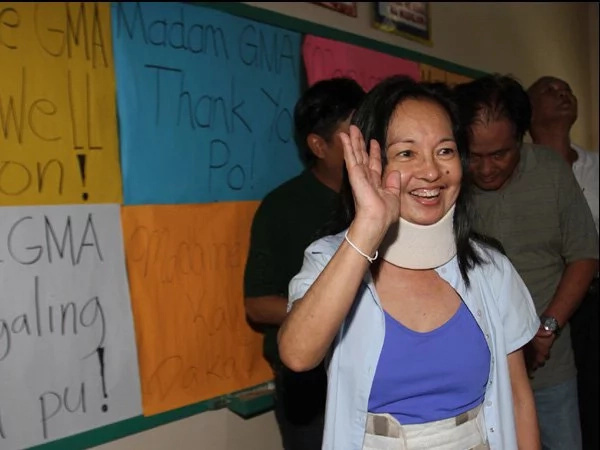 According to reports, the cancellation was due to fatigue for undergoing multiple tests at St. Luke's Medical Center in Quezon City.
Two days after the Supreme Court released its decision, Pampanga Representative Arroyo went to her house in La Vista, Quezon City from Veterans Memorial Medical Center (VMMC) where she was being detained. She then proceeded to St. Lukes  for check-up.
READ ALSO: SC Justice Leonen accuses fellow magistrates of being blind to the law
Former justice secretary Agnes Devanadera said that one of the test results showed that Arroyo had high cholesterol.
Arroyo will instead visit Lubao after attending the first State of the Nation Address (SONA) of President Rodrigo Duterte on Monday.
Despite Arroyo's health condition, her staff assured that the former president will attend the SONA.
READ ALSO: Hard feelings? Former PNoy to miss PDu30's SONA
Devanadera also revealed that Arroyo has no plans of filing charges against the people behind her plunder case, saying that Arroyo "is not that kind of person."
Meanwhile, Eastern Samar Representative Ben Evardone said that Arroyo's presence would be beneficial in the congress, citing Arroyo's expertise in the field of economics and social agenda.
On Tuesday, July 19, the Supreme Court ordered the release of Arroyo from hospital arrest after being accused allegedly conspiring to plunder P366 million in funds of the Philippine Charity Sweepstakes Office (PCSO).
READ ALSO: Arroyo used PCSO funds against its own charter – Aquino
Chief Justice Maria Lourdes Sereno, Senior Justice Antonio Carpio, Justice Marvic Leonen and Justice Alfredo Caguioa voted against Arroyo's acquittal, but were outvoted by the other justices.
Arroyo has since thanked her supporters for their prayers that lead to her acquittal. She also extended her gratitude to President Duterte, and hoped that the public will "respect and recognize" the SC's decision.
READ ALSO: Newly-elected senators react to Arroyo's acquittal
Source: Kami.com.ph