- A Naval operation led to to the seizure of three alleged Abu Sayyaf 'junkong' boats off the waters of Tawi-Tawi and Malaysia
- The ARG was joined by BRP Tarlac, the Philippines newest naval ship 
- The operation was launched following the increased cross-border kidnapping activity in the high seas between Tawi-Tawi and Malaysia
Three speedboats allegedly owned by the Abu Sayyaf group (ASG) have been seized by the Naval forces at around 10 a.m. on Thursday, July 21.
According to reports, the Joint Task Force Tawi-Tawi, with its Amphibious Ready Group (ARG) led by Colonel Fernando Gomez, took into custody three "junkong" boats at Panguan Island off Sitangkai town.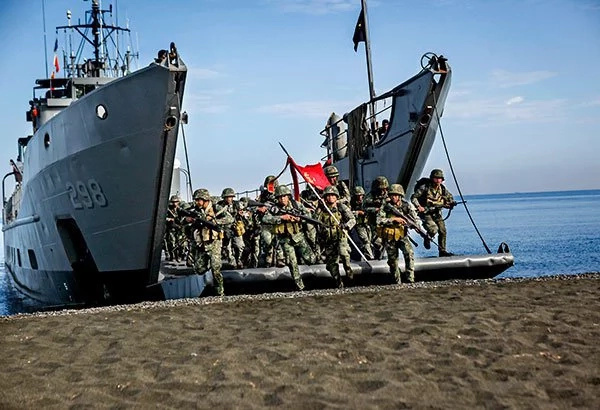 "Jungkong", according to the military, are Malaysian-style watercraft designed for shallow waters. The speedboats were seized to determine if they were used in cross-border kidnapping activities in Sabah in Malaysia.
READ ALSO: WATCH: Duterte promises better support to soldiers
The group also took three people into custody for failure to provide pertinent identification documents during the intensified naval operations in the waters between Tawi-Tawi and Malaysia on Thursday.
A shotgun and ammunition were also seized from the men, who are currently being interrogated to determine if they were involved in cross-border kidnappings in the high seas.
The military has earlier identified a local pirate group called the Muktadil Group which has been linked to the Abu Sayyaf Group, as being responsible for the cross-border kidnappings.
The ARG has launched amphibious operations targeting the supporters of Abu Sayyaf group and was joined by BRP Tarlac, the newest ship of the Philippine Navy, The newest ship was equipped with a helicopter, a Marine special operations unit, and a Navy special warfare detachment.
READ ALSO: LOOK! Terrorist group Abu Sayyaf kidnaps 5 Malaysians
The capture of the trio onboard the 'junkong' speedboats coincided with the arrest of Bads Adjam, also known as Pa Malod and Abu Jihad, an Abu Sayyaf militant, in Santa Maria village in Zamboanga City late Thursday afternoon.
Adjam has a bounty of P600,000 for his arrest based on a Department of National Defense (DND) joint order and has been linked to the kidnappings of six members of the Jehova's Witnesses in Patikul town, Sulu province in 2002 and in the kidnapping of 21 mostly European tourists in Sipadan Island in 2000.
Officials did not link Adjam's arrest to the military operations in Tawi-Tawi, though both provinces are part of the Muslim autonomous region. - Kami Media
RELATED: LOOK: Abu Sayyaf death toll rises to 40 – military
Source: Kami.com.ph