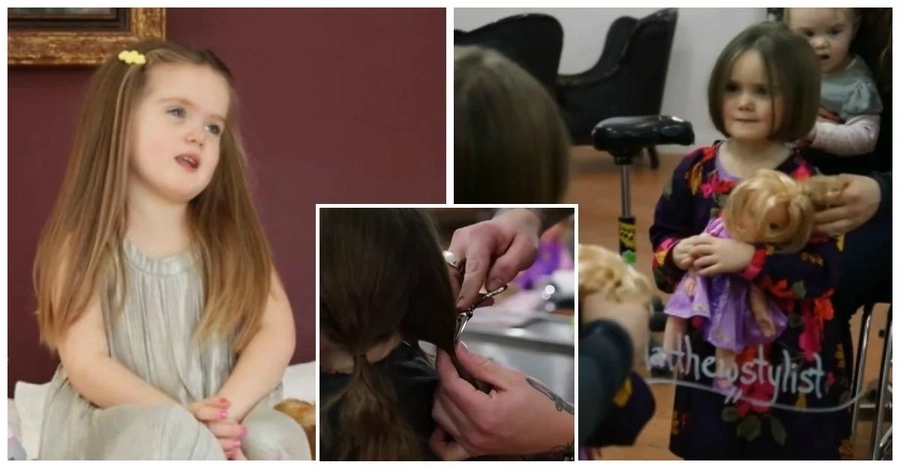 This is Emily James, a 3-year-old girl who loves frilly dresses and the movie 'Tangled'. And this is her first trip to the salon with extra special.
The adorable tot donated seven inches of her light brown locks to be made into a wig for a child with cancer, and her filmmaker parents captured her experience on camera. By the time she was three, the little girl's hair needed a trim, and it was long enough to be used for a good cause.
"We sat down and explained to her what cancer was, that some kids got really sick and lose all their hair, and that people can donate their hair to make wigs for these kids," Amy James wrote.
Emily agreed to the plan on one condition — her favorite Rapunzel "dolly" had to get her lengthy locks cut, too.
"I don't want any kids to be sad that they have no hair," she says in the heartwarming video. "What I want to do is give them my hair."
So Emily, and her dolly, paid Uncle Matthew — also known as Matthew Collins, the co-owner of Brennen Demelo Studios in Toronto — a visit. So first her Uncle Matthew cut Rapunzel's hair, Emily's favorite doll. And then he went to work with Emily's hair. After they were done, Emily and Rapunzel showed off their new look.
Emily and her parents sent the hair to a salon in British Columbia that is affiliated with the Canadian Cancer Society. The locks will be used to make a free wig for a kid with cancer. Later her parents said they've been "blown away" by the response to the video of Emily in studio with Uncle Matthew.
Source: Kami.com.ph