The two dogs Kala, an 11-month-old hound mix, and Keira, a 1-year-old boxer, were photographed hugging each other in a cage at a shelter, just hours away from being put to sleep.
The dogs were saved, and they've been living with a foster family for the past three months. And as of last week, the dogs have found their forever home! The organization Angels Among Us Pet Rescue announced on Facebook that the two dogs were adopted by a Wendy who recently lost her two elderly dogs.
Wendy says they're working on a special Facebook page that will keep the dogs' fans updated and hopefully raise additional money to help Angels Rescue save other dogs in Georgia's high kill shelters.
Wendy had recently lost her two elderly dogs when she saw the People story and realized the hugging pups were still available. "It just fell together," Wendy explained. "We turned our tears into smiles with these two young, playful dogs."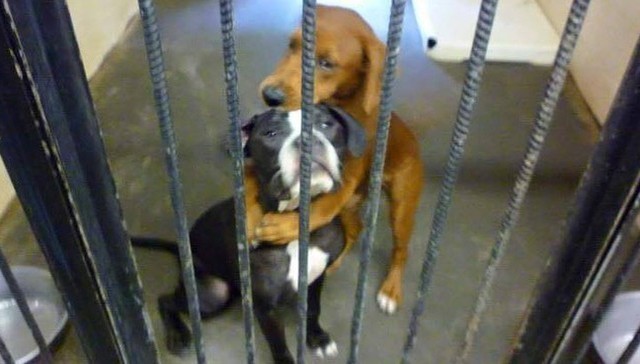 And that's what she say about her new friends.
"Hi everybody! Remember us??? Our big story was just on the news. Did you catch it? Well, in case you missed it, let us be the first to tell you. WE'RE ADOPTED!!! After looking everywhere for our new family, they found us! We never gave up hope and our foster mommy Cris said that the perfect people were out there. Now we get to hug them all the time! That's just our thing and they love that about us. I don't even remember that shelter or our life before we became Angels. All the good people made us forget the bad stuff that happened to us. Now here we are. A family and home to call our own. Thanks for sticking with us".
Source: Kami.com.ph