Syrian children plead for help through posting Pokemon photos
- After 50 civilians died in an airstrike, pictures of children holding images of Pokemon with caption pleading for help were posted on Facebook
- The images have garnered thousands of shares and sympathy from all over the world.
- Since 2011, the conflict in Syria has killed and displaced thousands
With the conflict in Syria still raging, a couple of children decided to post Pokemon pictures with captions pleading for the world to save them.
Published on Facebook, the images depict miserable looking Syrian children holding up a picture of Pokemon characters like Pikachu with the caption "I am here, come save me."
Along with the plea of help, the caption contains the location of each child, who come from various areas in Syria.
READ ALSO: What these Syrian rebels did to a young boy will terrify you!
The heartbreaking photos, posted by the Revolutionary Forces of Syria Media Office (RFS), have been proliferating around the internet.
One child, with pleading eyes, posted a picture that read "I am in Kafr Nabl on the outskirts of Idlib, come and save me."
Another child, looking dejected, posted "I am in Kafr Zeta, save me."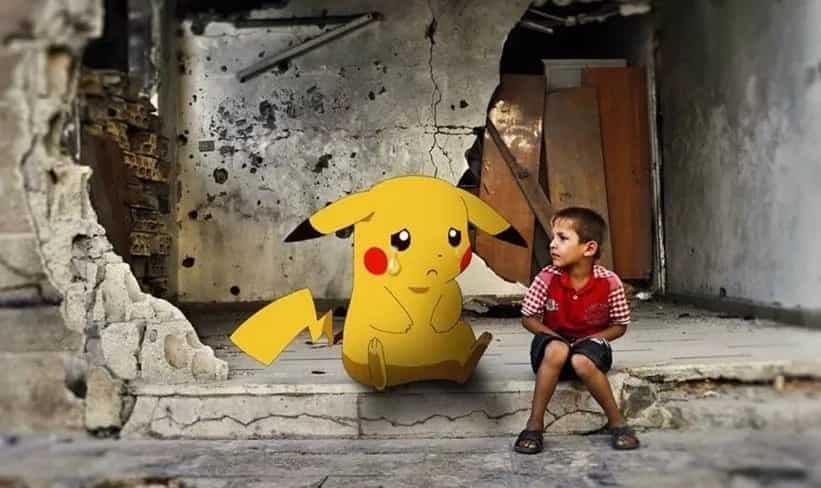 The aim of the RFS is to spread messages against dictator Bashar al-Assad and his regime. A representative of the media group said, "With the media spread wide for Pokemon game we decided to publish these images to highlight the suffering of the Syrian people from the bombing of the forces of order and Air-Assad to the Syrian people and besiege them."
READ ALSO: Unknown group bombs Christian village in Lebanon
The spokesperson continued to say that they hope to raise awareness and inform the world about the suffering and deaths of the Syrian people.
The pictures have invoked sympathy from thousands of netizens, some expressing frustration that Pokemon Go is receiving more hype and attention than the war in Syria. Thousands of people have died and even more have been displaced since the beginning of the war in 2011.
One user on Twitter described the images as "the Pokemon game you have not seen before."
READ ALSO: Powerful photos of dads caring for their children in times of war
The Pokemon photos were published after more than 50 civilians, the majority women and children, died in air strikes.
According to UNICEF, more than 35,000 children are caught in the crossfire in Manbij, Syria.
READ ALSO: PHOTOS: Old couple in their 80's in poverty; how they survive will inspire you
Source: KAMI.com.gh