- QCPD names the four cops who tested positive for illegal drugs
- These policemen are now under restrictive custody at the District Headquarters Support Unit in Camp Karingal
- Members of the Philippine National Police were subjected to drug tests around two weeks ago
Quezon City Police District (QCPD) has released the names of the four policemen who tested positive for illegal drugs during the drug testing activities in the past two weeks.
QCPD head Senior Supt. Guillermo Lorenzo Eleazar said that the four policemen tested positive for shabu or the Methylamphetamine.
These policemen are District Public Safety Batallion (DPSB) member PO2 Marlou Baradi, Batasan Police Station's PO1 John Santos, Anonas Police Station's PO2 Cornelio M Sarmiento, and Talipapa Police Station's PO1 Porferio Sarigumba from.
READ ALSO: What Duterte said about rehabilitating shabu addicts will shock you!
According to Senior Supt. Eleazar, the releasing of the names of these policemen came after a confirmatory test was conducted by the PNP Crime Laboratory. The laboratory tests verified the results that first came out during the surprise drug testing.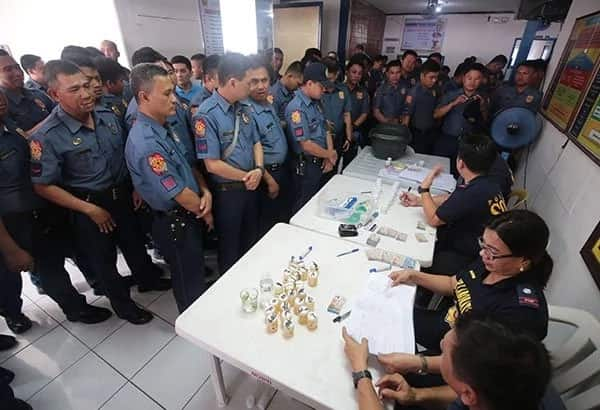 Furthermore, the Senior Supt. said that the four policemen are already placed under restrictive custody. They are now under the District Headquarters Support Unit located at the QCPD headquarters in Camp Karingal.
Eleazar also disclosed that these policemen have been disarmed of their service firearms while waiting for the request approval related to their transfer to the Regional Headquarters in Camp Bagong Diwa, Bicutan, Taguig City.
"The NCRPO (National Capital Region Police Office) Director is the disciplinary authority for dismissal proceedings of these personnel," Eleazar added.
READ ALSO: 7 cops from Central Visayas tested positive for drugs ; relieved from duty
Meanwhile, Eleazar also noted that although these policemen have already been confirmed of being positive with illegal drugs, they still can contest the results.
A final test, using the same urine samples, will then be carried out. This final test will be conducted and fulfilled by a third party that will be agreed upon by both the PNP and the policeman.
"If they will test positive for that final phase, then they will face administrative cases," Eleazar said.
READ ALSO: Watch out! 23 drug mayors will be named by Duterte soon
QCPD should also expect more drug test as the one already conducted will definitely not be the last.
"The next one will be directed at those policemen we are closely monitoring because of intel information given to us," he said. As of present, there are at least 12 cops that are under observation.
Some of the names from the list were from those who have surrendered under the Oplan KaPak.
KaPak is a PNP program aimed to push and encourage drug users to surrender themselves voluntarily. All members of the PNP have undergone drug testing as part of PNP Chief Ronald Dela Rosa's programs.
READ ALSO: WATCH: These drug suspects surrendered themselves; what the gov't did for them will surprise you
Source: Kami.com.ph