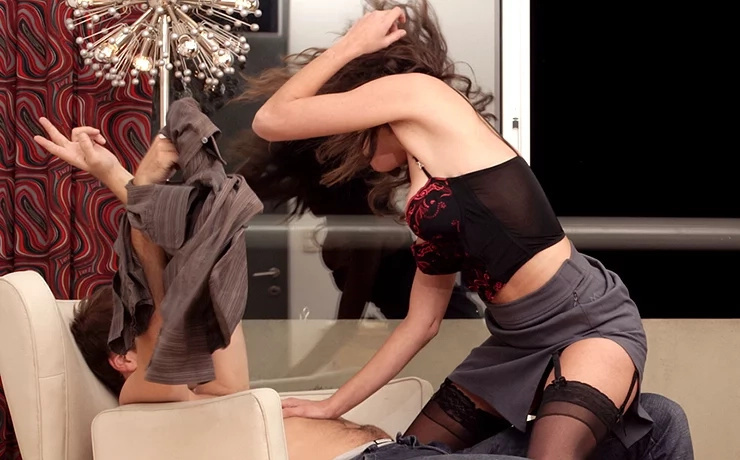 Spicing up your sex life can be pretty simple and there's no need to fly to the Caribbean. You'll be surprised that your own home has everything to become your 'love nest.' Some ideas are good, others – not so much. You choose:
1) The couch: It gives you a good opportunity to try out all the sitting sex positions – facing your partner or with your back to your partner. The most important part is to make sure that your furniture is sturdy enough to take the punishment. It won't be too fun to get splinters in your soft spots.
2) Chest of drawers: You sit on it, he stands there before you. Because the chest is higher than a bed or couch that mean, you can try new angles of penetration, which means new sensations. If you're not too sure about the quality of your chest of drawers you can lean on the chest with your butt toward your lover: this way you won't risk your furniture and get new penetration angles.
3) Shower/bath "Wash me! I'm such a dirty girl" You're naked here anyway so why not be naked here together? Cons: you're really restricted in your choice of positions, and it's good to have rails so you don't slip. Pros: you can make bubble baths or throw a bath bomb and do it among the bubbles.
4) Washing machine: If you put a towel on it and put it on a fast spin, you can turn it into a big sex-machine, mounting which you can be in for some intense sensations.
5) On the floor: The most fun part about this is one the feeling of sudden unrestrained passion you get. It helps take tension off your back and motivates you to keep your floors clean. Cons: take care not to hurt your knees
6) Kitchen Table: A great place for spontaneous sex! Of course, if you're not one of those bores that say "Eww! We eat here!"7
7) The car: A Hollywood classic for those who have a garage, because you probably won't want supermarket security to be interrupting your love making, or for hikers to laugh at your car jumping up and down.
8) The walls and windows: Sex isn't restricted to horizontal positions so you can go wild all around your house. You just have to be careful not to push windows out or topple a wardrobe.
9) The attic: A nice little secret corner for those who have a house. It's also so much better if you don't have cobwebs and stacks of dusty books up there.
Source: Kami.com.ph