- Quezon Rep. Danilo Suarez announced his intention of going up against former Speaker Sonny Belmonte for the minority leader post in the 17th Congress
- Suarez said that with the backing of his political allies and party mates in Congress, he is running against Belmonte with the intention of winning
- With the supermajority created by PDP-Laban in play, the Liberal Party securing the minority leader post is very crucial
Things are getting pretty interesting in the House of Representatives as the race for minority leader in the 17th Congress makes an unexpected turn of events with Quezon Rep. Danilo Suarez of the United Nationalist Alliance (UNA) announces his desire to give former Speaker Feliciano Belmonte Jr. of the Liberal Party (LP) a run for his money.
Suarez said that his decision to go up against Belmonte is no tokenistic challenge for formality. With the backing of his allies and party mates in Congress, he intends to win.
The rules of the House of Representatives grant the candidate for speakership with the second highest votes, the position of minority leader. Davao del Norte Rep. Pantaleon Alvarez, after endorsed by President Duterte, is the expected winner of the speakership race by a landslide. The race will then boil down to which who gets the second highest votes between Belmonte and Suarez.
READ ALSO: When dreams become blurry: The uncertainty of an imagined world of vigilante justice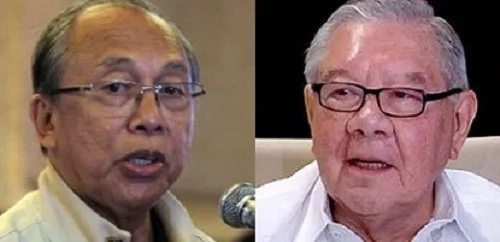 Belmonte and the Liberal Party, after weeks of deliberation, decided to stay in the minority bloc in the 17th Congress and discarded any plans of joining the majority coalition led by Duterte's party, Partido Demokratikong Pilipino- Lakas ng Bayan (PDP-Laban).
UNA president and Navotas Rep. Tobias Tiangco has also decided to stay in the minority bloc as their members cannot reach a consensus in supporting President Duterte's anti-drug campaign methods and shift to a federal form of government.
Ilocos Norte Rep. Rodolfo Fariñas, the expected majority leader, is expecting surprises in the voting.
In a text message, Fariñas said that just like in the previous Congress, some of those in the majority may be tempted to join the fray for minority leader to make things more interesting.
READ ALSO: What Duterte said about rehabilitating shabu addicts will shock you!
Martin Romualdez lost the minority leader post in the previous congress to Ronaldo Zamora whose political party forged a majority coalition in Congress.
Currently, PDP-Laban has created a "supermajority" with many of the biggest political parties such as the Nacionalista Party, Nationalist People's Coalition, National Unity Party, Lakas-NUCD and the Party-list Coalition.
With that, Albay Rep. Edcel Lagman of the Liberal Party said that "the only principled option for the LP is to constitute the political opposition to preserve the democratic process." -Kami Media
RELATED: VP Leni: Extrajudicial killings might create culture of fear
Source: Kami.com.ph