- Commuters have urged President Rodrigo Duterte to focus more on providing safe and secure sidewalks for pedestrians
- Commuters believe that this can keep many Filipinos safe, particularly students
- Pedestrians pointed out that many establishments have claimed sidewalks for their businesses, forcing them to walk on the road
President Rodrigo "Rody" Duterte has focused his efforts and resources on combatting the illegal drug trade in the country and has succeeded so far in his mission. However, many Filipinos have also urged the President to focus on an issue that is just as important for their safety and security: providing safe sidewalks for commuters.
"I use Zobel Roxas Street every day and I'm annoyed because I have to pass between moving and parked vehicles. There's no sidewalk… talk about safety," a concerned citizen said. The commuter also pointed out that the lives of young students are also at risk because of the lack of available sidewalks.
Many commuters are being forced to walk on the roads designated for moving vehicles due to the lack of available sidewalks. Many of the sidewalks available have also been claimed by business establishments, markets and street vendors.
READ ALSO: 'GMA is like me' – Erap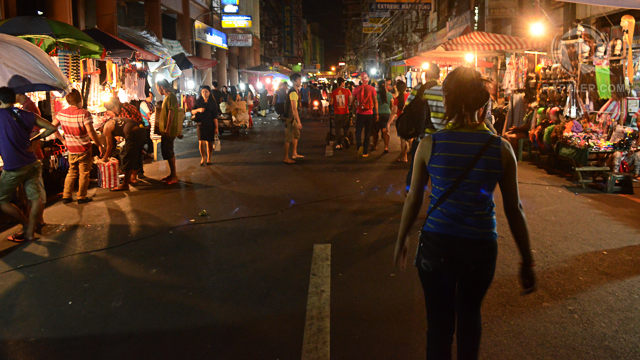 Some of the sidewalks have become parking spaces for private vehicles and public utility vehicles such as tricycles, buses, and taxis. Other establishments have also decided to build walls, garages, and fences that extend to public sidewalks.
A concerned citizen complained about a sidewalk in Bacoor, Cavite, saying: "The sidewalks leading to and in front of the Zapote public market are occupied by vendors, stall-holders, parked tricycles, cars and other vehicles."
READ ALSO:  Baste to President Duterte: He is a very humble man
The resident explained that the lack of adequate sidewalks for commuters increases their travel time by at least 30 minutes and makes commuting much more difficult and discouraging. Motorists are also affected by the inadequate sidewalks because the pedestrians are forced to use one lane of the road in order to travel.
"When did it become legal for public roads to be owned by private individuals?" another commuter pointed out.
Many Filipinos are hoping that Duterte can be as effective in solving traffic issues and commuters' problems just as he is in fighting criminality. -Kami Media
RELATED: Duterte to PH Olympians: 'Just try your best'
Source: Kami.com.ph