PSEi firms up above 7,200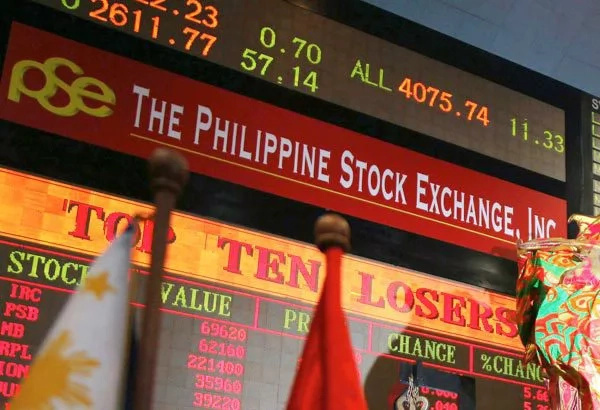 In light of lethargic regional market and a 41-minute disruption in intra-day trading due to technical glitch, the local stock market turned from negative to positive territory on Friday.
Rising for the second straight session, the main-share Philippine Stock Exchange index gained 14.23 percentage points or rose 0.2 percent to close at 7,247.20, led by the rebound of telecom stocks.
The PSEi was higher due to services, which rose by 1.36 percent. PLDT, which was sold down on Thursday, rebounded by 1.67 percent while Globe also rose by 1.27 percent.
The industrial, holding firm and property counters also firmed up while the financial and mining/oil counters slipped.
URC, SM Prime, JG Summit and LTG all gained by over 1 percent while ALI and SMIC also contributed to the day's gains.
Outside of PSEi stocks, notable gainers included Puregold (+5.11 percent) and Security Bank (+1.99 percent).
Total value turnover amounted to P6.55 billion. There were 102 advancers that edged out 75 decliners while 57 stocks were unchanged.
The market started on a sluggish note as regional markets took their cue from the overnight sell-off in Wall Street.
Due to "technical issues," the PSE halted trading halted at 10:29 am. Trading resumed by 11:10 am.
This was the first trading disruption seen in the PSE for this year and the first time since trading glitches occurred three times in August 2015, then calling the attention of the Securities and Exchange Commission.
In a statement, the PSE said the trading halt was due to a "third-party communication line disconnection within the exchange system's network." It added that the incident was not related to the trading terminal issue encountered in August 2015.
The PSE said it determined the issue to be "strictly confined to the communication line systems."
Trading resumed once connection was firmly established and the appropriate system checks and end-user operational procedures completed, the PSE said.
"The Exchange will conduct further assessment on the issue encountered in today's trading to prevent similar incidents from happening in the future," it said.
For the week, the PSEi was flat, adding only 2 points from the previous week.
photo from philstar.com
Source: Kami.com.ph