Palarong Pambansa runner gets offers from US universities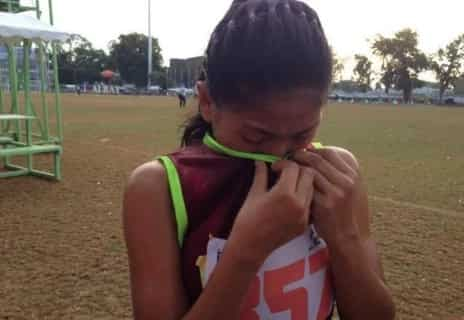 Palarong Pambansa runner gets offers from US universities
Mia Meagey Ninuro, currently a grade 11 student, clinched the first gold medal in this year's Palarong Pambansa 2016 in Albay. The Palarong Pambansa is a melting pot of talent. That's why it's no mystery that some of the Philippines best athletes started their careers from this humble beginning. For athletics, Lydia de Vega and Elma Muros. For tennis, Diane Castillejo. Enchong Dee in swimming. Players from Palarong Pambansa have even been spotted early on in their careers as diamonds in the rough. Ara Galang, one of the DLSU Lady Spikers' best, was recruited by Coach Ramil de Jesus when she was still a 2nd year high school student playing for the Central Luzon squad. Azkals Chiefy Caligdong and Christopher Camcam have also participated in the Palaro.
READ ALSO: Palarong Pambansa 2016: Albay Is Ready!
A possible addition to this list could be Ninuro, who, after being watched by Filipino-American coach William Perri Enzo from University of California, Los Angeles (UCLA), was offered if she would like to continue her education in the US. It was at the moment when Ninuro beat her rival Jian Calis that Enzo saw the potential of Ninuro. He immediately approached her present coach Maylene Quimque to ask if she would like to study abroad. Ninuro also received an offer from the University of South California (USC). The University of Santo Tomas is also eyeing her potential.
Quimque, her coach, for her part, thinks that the girl is still too young to fly off to the US. When Ninuro was asked if she was okay studying in the US, she said yes.
"Okay lang naman po sa akin," said Ninuro.
Ninuro, hailing from Davao, claimed the first gold medal in this year's Palaro. She broke the record of her rival Jian Calis in the 3,000 meter event, from 10:10.6 to a close and impressive 10:03.4.
In her 6 years competing, this is the first time she has bagged the gold.
"Sabi ko papanalunin ko po ito para maibalik ko naman po 'yung paghihirap ng coach ko," she said. According to her, she plays for her coach's and parent's hard work. Ninuro is the only daughter of a housewife and a farmer. She admitted that her family is facing financial difficulties.
"Kahit po nag-iisa ako, nakikita ko yung paghihirap at pagsa-sakripisyo nila kaya ginagalingan ko po," she said.
She will compete yet again for the 800 meter and the 1,500 meter event.
READ ALSO: Palarong Pambansa torchlighter is PWD
Source: KAMI.com.gh