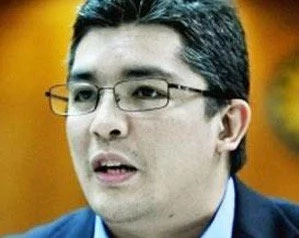 Former Comelec Comissioner Gregorio Larrazabal, the current legal counsel of the Nationalist People's Coalition, said that when the Commission on Election (Comelec) permitted the printing of 56.9 million ballots with the "Daang Matuwid" slogan attached to two candidates of the Liberal Party, it committed a grave transgression. He stated that such act is in violation of Comelec resolution 9984.
Larrazabal made a statement last Sunday calling out the printing of the official ballots with the  "Daang Matuwid" slogan,  which is the campaign slogan of the present administration affixed to the names of presidential candidate Mar Roxas II and vice presidential candidate Leni Robredo of the Liberal Party.
Larrazabal explained that according to the said Comelec resolution, "unless there was an official change of name through a court-approved proceeding, an aspirant shall use in the Certificate of Candidacy: (1) the name registered in the Office of the Local Civil Registrar; (2) the name by which such aspirant has been baptized; or (3) any other name under the provisions of existing law or in the case of a Muslim, a Hadji name after performing the prescribed religious pilgrimage. However, when there are two or more aspirants for an office with the same name and surname, each aspirant shall need to state a paternal and maternal surname, except the incumbent who may continue to use the name and surname stated in the COC when last elected."
He said that an aspirant may include one nickname or stage name by which the aspirant was generally or popularly known in their locality "provided that, no aspirant shall use the nickname or stage name of another. Only one nickname or stage name shall be considered.
"In the ballot for the 2016 elections, the phrase "Daang Matuwid" as part of their respective names of some candidates appeared on the official ballot. If you read the rules, the nickname to be used by the candidates is limited to one nickname or stage name by which aspirant is generally or popularly known in their locality," he asserted. "The Daang Matuwid" is a campaign slogan and not a nickname and it cannot be used by two different persons.
However, Malacañang already permitted the printing of the ballots and even praised Comelec for finishing the printing 18 days ahead of schedule or within only 49 days.
Larrazabal insisted that ""Daang matuwid" or "Tuwid na daan", is this administration's driving force and that it shouldn't be used by a political candidate just because this specific candidate is being backed by the administration.
Source: Kami.com.ph