Panelo, Dureza rejoices over Arroyo's acquittal
- Presidential Legal Counsel Salvador Panelo approved the verdict of the Supreme Court on acquitting former President Gloria Macapagal Arroyo of her plunder case
- Arroyo was congratulated by Presidential Peace Adviser Jesus Dureza who also rejoiced over the decision of the SC
- Since the other co-accused in the conspiracy charge had been already freed, Panelo stated that it is the just time for the former president to be freed as well
On the Supreme Court's ruling on Arroyo's plunder case, the chief legal counsel of President Rodrigo Duterte said that the decision of the High Court showed that justice had been served to the former President.
Panelo added: "It's about time. All the respondents have been released, di ba (right)?"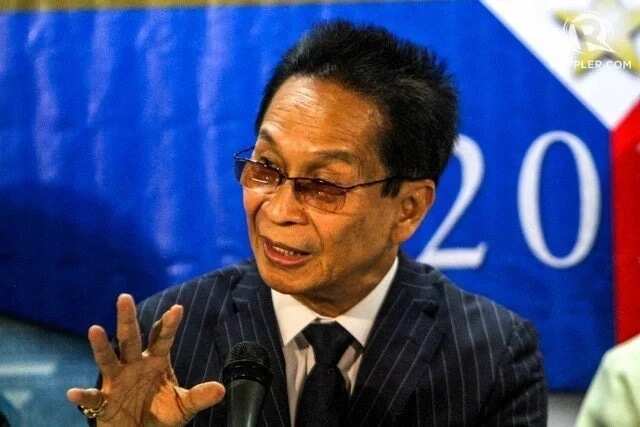 On July 19, the Supreme Court ruled 11-4 to dismiss the plunder charge against Arroyo who was charged in 2012 for the alleged misuse of the funds of Philippine Charity Sweepstakes Office when her administration was nearing its end.
READ ALSO: GMA on SC ruling: Keep your faith in the justice system
The P366 million plunder suit against Arroyo was filed by the Ombudsman before the Sandiganbayan because of the alleged misuse of the PCSO funds from 2008 to 2010.
The former president expressed her gratitude to the Supreme Court justices and to President Duterte as well.
READ ALSO: BREAKING: SC sets former president Gloria Macapagal-Arroyo free
"First and foremost, to God Almighty be all the glory and praise. Through His kindness and mercy, justice and righteousness have once again prevailed over injustice and wrongdoing," said Arroyo.
Presidential Peace Adviser Jesus Dureza also rejoiced when the ruling favored Arroyo, whom he served during her administration. Arroyo was congratulated by Dureza in a phone conversation.
"We see that justice has been served with the decision of the SC. Personally, I rejoiced over this decision," Dureza stated.
RAD ALSO: LOOK! Arroyo downplays graft charges before Sandiganbayan
Since all the co-accused had been released in the conspiracy case filed against Arroyo, Panelo affirmed that it is only right that Arroyo be released as well. Panelo further explained that the act of one is the act of all in conspiracy while the reverse is that the innocence of one is the innocence of the whole group.
President Rodrigo Duterte vowed to grant pardon to Arroyo when he won the presidential election last May. The verdict of the Supreme Court reflects the promise of Duterte to Arroyo.
Some of the campaign supporters of the current president are Arroyo's former officials in her administration.
READ ALSO: Gov't-run crematories pushed to lessen cost of burial
Source: Kami.com.ph