Sometimes, men and animals develop a stronger connection than a lot of humans do with each other. Animal therapy is a great proof of that – with many humans using animals to treat both their physical and mental illnesses.
Here are some photos from different countries around the world that show how amazing animal therapy is.
1.) Horse and handicapped girl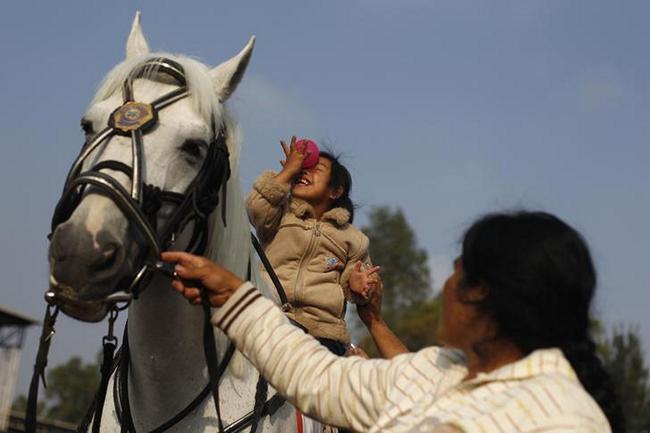 In this picture, we can see a girl with a disability holding a ball to her forehead during an animal therapy session with a horse at the Mounted Police Unit in Mexico City.
2.) Two-legged dog cheers up woman with multiple sclerosis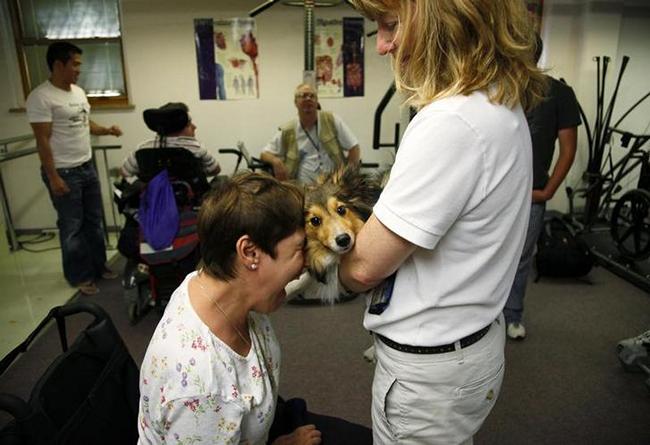 Sue Sutton has multiple sclerosis – a serious condition that involves the nerve fibers getting attacked by the immune system which leads to brain and spinal cord problems. Thankfully, two-legged dog Sheltie is there to provide therapy for people with disabilities in Denver.
3.) Horse inside a girl's bedroom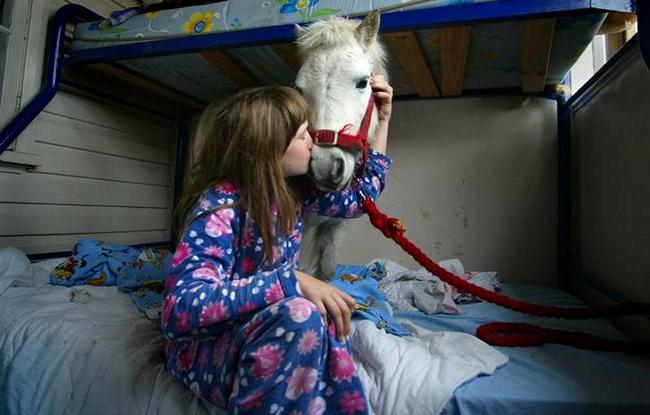 Carissa Boulden, a 10-year-old girl in Sydney, keeps her pet horse Princess in her bedroom to keep her feeling happy and peaceful.
4.) Dolphin provides therapy for pregnant women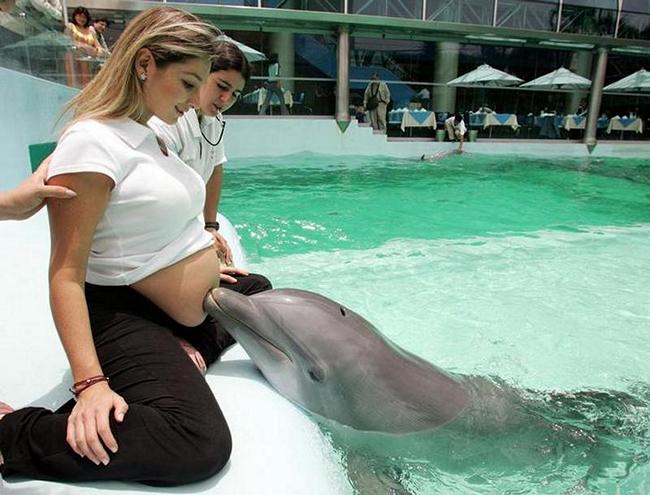 Wayra, an incredibly smart, affectionate and cute dolphin, touches the belly of Peruvian Ety Napadenschi, who is eight months pregnant. This kind of therapy would surely benefit both the mother and her baby.
5.) Child with autism rides a horse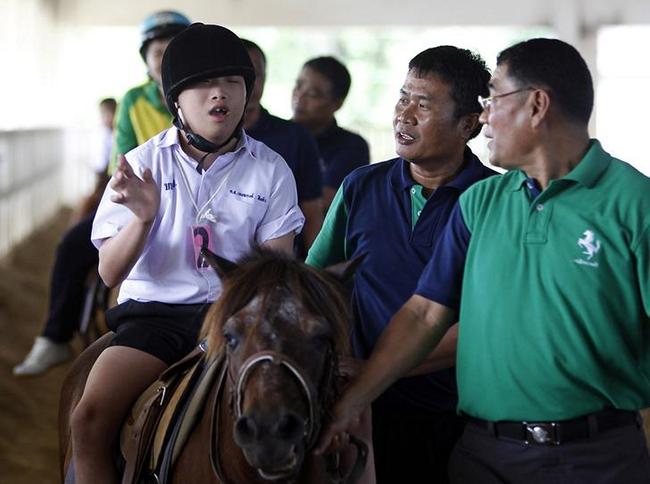 During the Mounted Police Sub-Division's Horse Therapy Special Children program in Bangkok, Thailand, a child with autism rides a horse as part of his therapy.
6.) Smiling dolphin touched by cute girl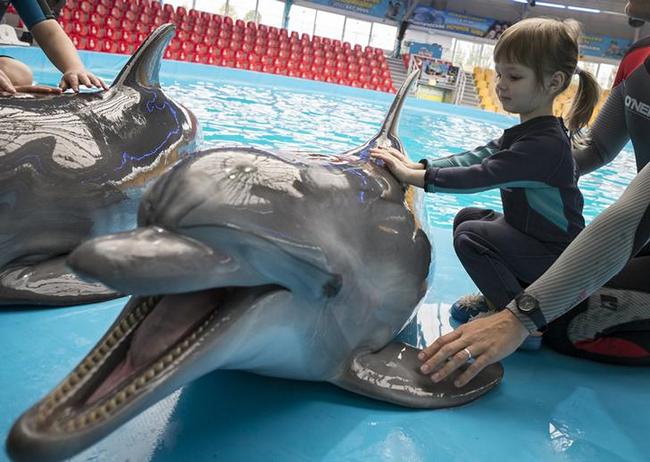 One of the main reasons why most people find dolphins irresistibly cute is their big smile! Look how happy this dolphin while is cuddling a girl!
READ ALSO: LOOK: 4 cobra tried to enter family's home; what this pet dog did will make you cry
7.) Leech therapy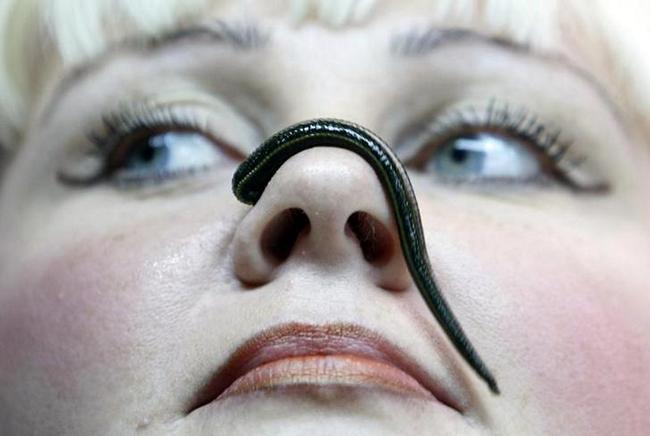 Many people find leeches disgusting and gross. However, many animal therapy experts use leeches to reduce clotting and decrease pain.
8.) Trained dog provides therapy to girl in a hospital
Patient Rayssa, a young patient at the Hospital Infantil Sabara in Sao Paulo, is cheered up by a well-trained dog during their therapy session.
9.) A handicapped child is helped by a horse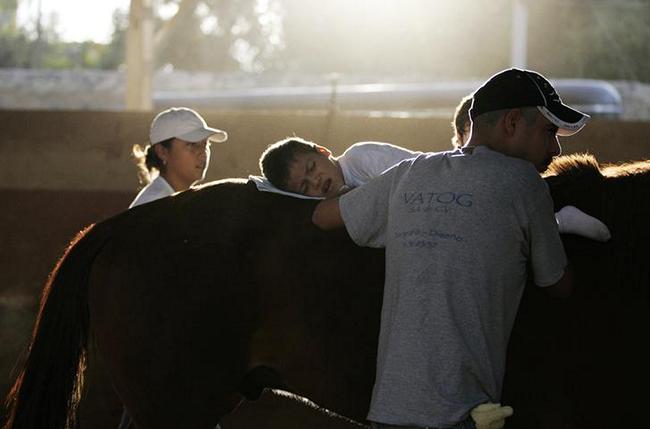 A handicapped child is helped by a team of volunteers as he rides a gentle horse at Lienzo Charro in Guadalajara.
READ ALSO: When man found this dog, everyone expected it to die. But learn what happened next
10.) Terrier at an elderly care center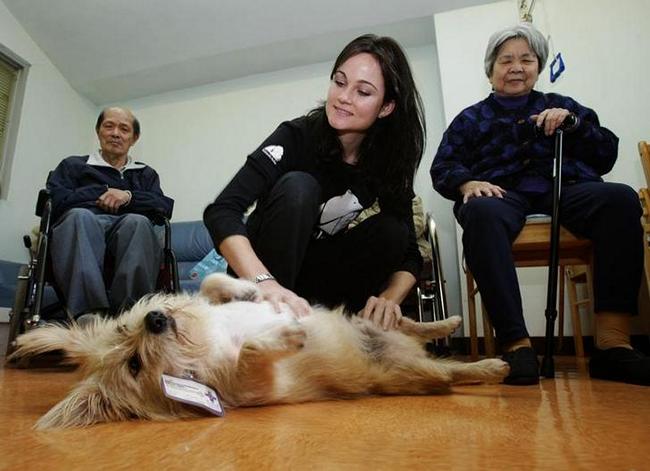 Eddie, a playful terrier dog, plays with his owner Anneleise Smillie during a therapy session at an elderly care center in Hong Kong.
11.) Boy with disability swims with a Pink River Dolphin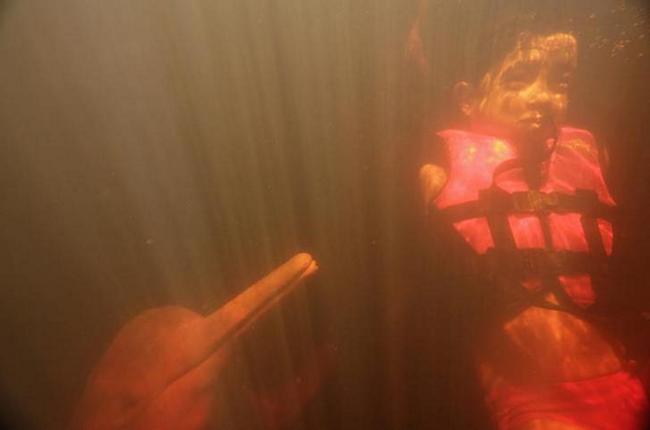 Animal therapy experts say that swimming with Pink River Dolphins can help manage a variety of health disorders. Leonardo Araujo, 12, who could not walk before undergoing the animal therapy, has displayed significant physical and self-esteem improvements since he started swimming with the dolphins!
12.) Snake at a spa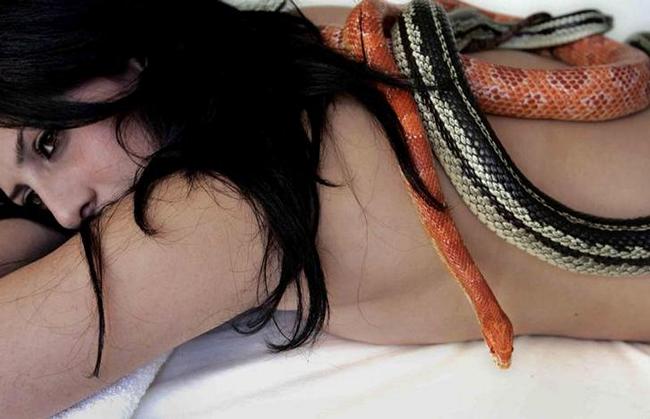 According to spa owner Ada Barak, corn snakes, milk snakes, California King snakes and Florida King snakes help soothe and give relaxation for clients. Who knew that interacting with snakes could be so soothing?
READ ALSO: Migrants flee war-torn countries, only to be tortured
13.) Boy with cerebral palsy cuddles with gentle dog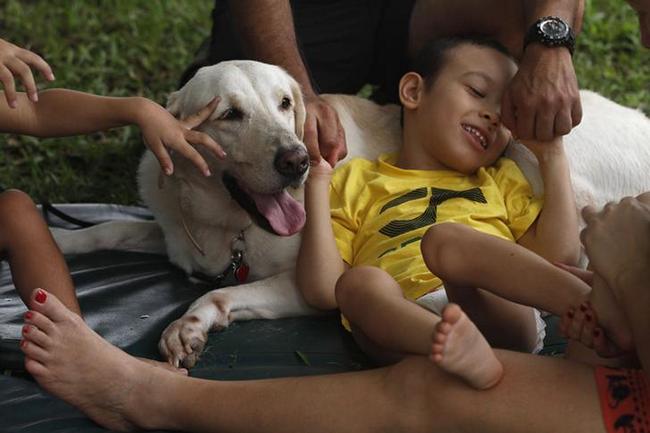 This is an animal therapy session at the Colitas Foundation in Panama City. See how Geovany Gonzalez, a boy with cerebral palsy, seems so at peace with a therapeutically trained dog?
14.) South Korean man hugging his therapy dog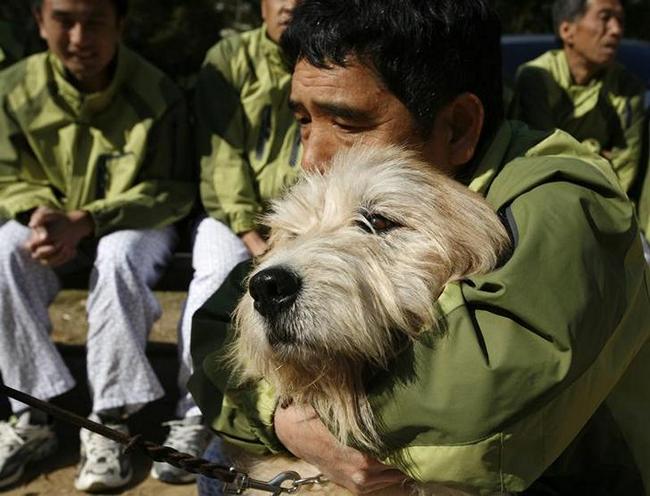 A South Korean patient at a Yeongcheon rehabilitation center passionately hugs Ssoidol, a nine-year-old Sapsaree therapy dog.
15.) Soldier with his therapy dog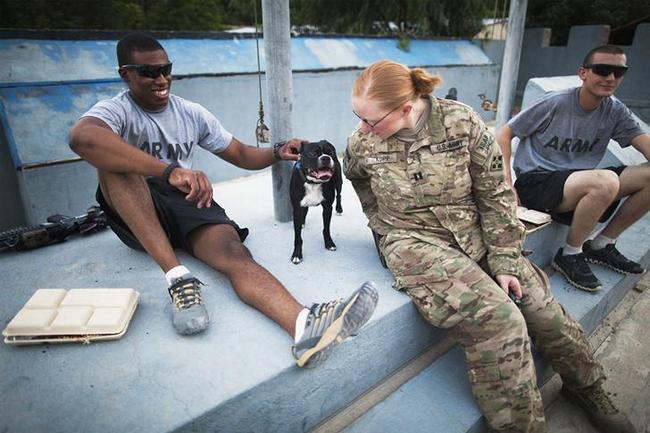 Many soldiers are known to develop a strong and inseparable bond with army dogs. This picture shows therapy dog Hank visiting Combat Outpost Nangalam in Afghanistan.
READ ALSO: Don't cry for him Argentina: Arturo — saddest polar bear in the world dies
16.) Giant snail gives medical-cosmetic facial massage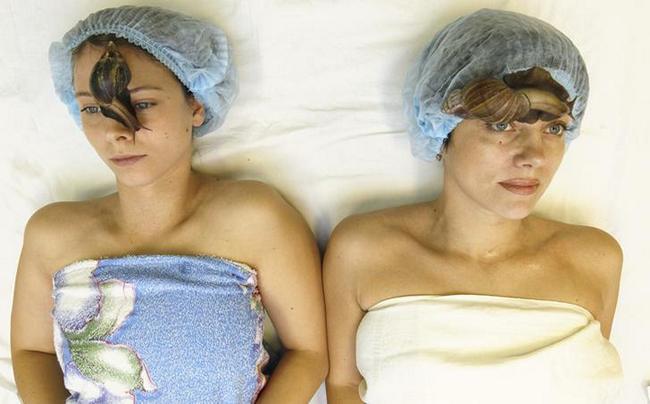 "Ranetka" family club members receive a medical-cosmetic massage from Giant African land snails in Russia.
17.) Sea lion performs for girl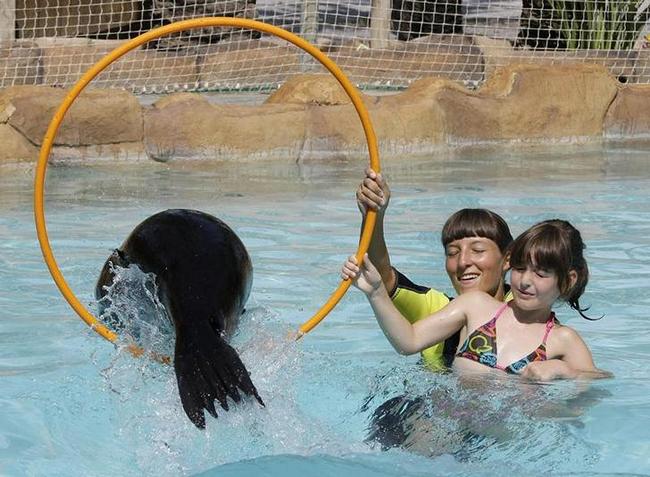 Neron, a talented sea lion, can be seen in this picture jumping through a ring as part of a therapy with a girl with a neurobehavioral developmental disorder.
18.) Bee sting therapy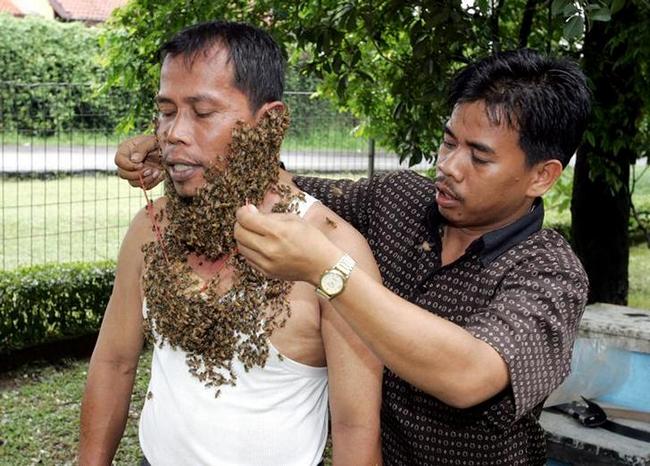 Although the bee sting therapy is not yet scientifically proven to treat chronic body pain, this man from Jakarta, Indonesia allows himself to be covered with live honeybees in order to alleviate his pain.
READ ALSO: WATCH: Man finds monster lizard at home; what he did next is unbelievable
19.) Garra Rufa fish eat dead skin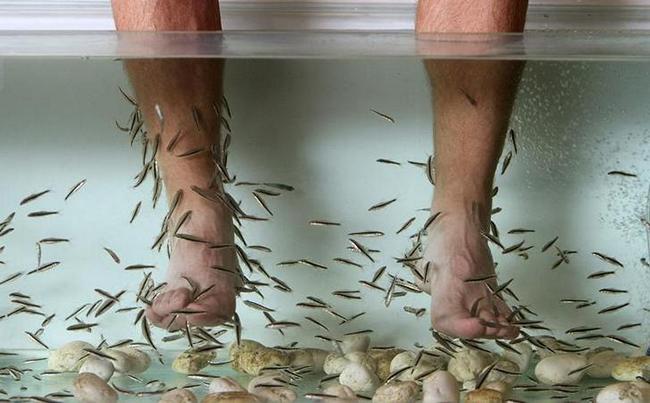 A tourist enjoys an animal therapy session at a fishing spa in Pattaya. The Garra Rufa fish are used by spa centers to eat the dead skin from the client's feet. This animal therapy is also known for treating skin disorders such as eczema and psoriasis.
RELATED: WATCH: Horrifying video of a woman eating live scorpions non-stop