Chinese boy wows people with video's special effects
- Xiao Wen's four-minute short film captured the attention of the netizens because of its commendable special effects
- The student majors in Cinema and Television Digital Media Arts; the video is a product of his boredom after his classmates went on their respective vacations
- Wen dreams of working in Hollywood someday; he loves comics and movies
A Chinese student's work has gone viral after his clip featuring a battle scene has captured the attention of netizens, sharing it at least 1300 times as of writing and garnering 169,000 views on Facebook alone.
Xiao Wen is a 19-year-old student majoring in Cinema and Television Digital Media Arts at Sichuan University of Media and Communication. While the clip might not have used avant-garde technology, the execution of the special effects does exceed expectations.
READ ALSO: Boy's nonverbal comments make TV presenters nearly burst with laughter
The video, which lasted four minutes in total, has amazed netizens, prompting them to share Wen's skills, at least in the virtual world. What caught the attention of the viewers is the special effects used in Wen's fictitious battle scene with his classmate.
It is also interesting to note that the video was a product of boredom. His production team is composed only of four members. However, the team proved that they can come up with the same result that bigger-sized teams aim for.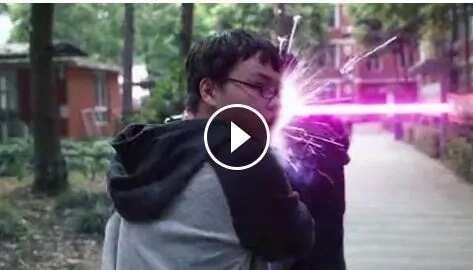 To add to the already commendable special effects, it is also rightful to give credits to Wen for having to fill up several roles, including being the director, screenwriter, producer, colorist, sound engineer, action designer, construction coordinator, and of course the special effects engineer. The ambitious student proved to be a jack of all trades.
To top all those roles, Wen also is one of the two main characters in his own short film.
READ ALSO: WATCH: These snakes couldn't keep their scales to themselves, get into a tangle from a ceiling
The film accumulated a total of 12 hours in terms of shooting time. It also took them almost one month to edit their short film. This length of time is totally worth it as 3 minutes and a half featured special effects. 12 hours to shoot the film, the team spent nearly one month in editing, as 3 minutes and a half (out of 4 minutes) are done using special effects.
Wen is a comic and movie fan. His ultimate dream is to land a job in the future in Hollywood. He also dreams of being an independent producer who would be one of those few who can bring Chinese productions to the international stage.
READ ALSO: WATCH: Find out how a real life Pokémon battle looks l
Source: KAMI.com.gh