GoT dominates Emmys, gets 23 nominations
- Game of Thrones led the Emmys 2016's nomination list with 23 nominations
- Maisie Williams, Lena Headey and Emilia Clarke took to social media their entertaining reactions for their nominations
- HBO just announced that the seventh season of Game of Thrones will premiere next summer with seven episodes
The popular hit 'Game of Thrones' just recently concluded its sixth season (not just with a fizzle but-) with a bang.
You know it's that time of the year when your friends on different social media accounts, especially on Twitter and Facebook, who are fans of the show could not even form actual sentences and just use random capital letters, i.e. "KAJSHDJKAHDSA."
No doubt, GoT has indeed rocked the entertainment world. This year's 68 Primetime Emmy Award nomination list didn't fail to acknowledge the show as they lead with 23 nominations. For those who are unaware or have been living under the rocks, it is the Oscars of TV shows so to speak. This came as no surprise since they also led last year's list with 24 nominations.
READ ALSO: This Game of Thrones fan just revealed Jon Snow's real name
More than the fans, the actors themselves couldn't help but to rejoice for the nominations. Check out their responses!
It is Maisie Williams aka Arya Stark's first nomination and for 'Outstanding Supporting Actress In A Drama Series' nonetheless.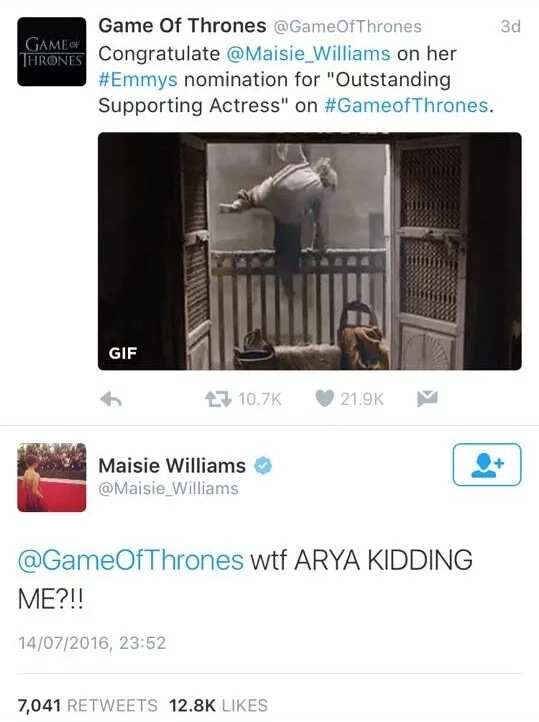 Don't be shocked, Maisie! You did really well.
READ ALSO: Internet finds photo of Peter Dinklage riding a scooter, goes crazy with it
Another nominee for the same category is Lena Headey or as we all know her character, Cersei Lannister. There's no bad blood between the two as she proudly mentioned Maisie with a few fist bump emojis.
The mother of the dragons is on fire! (pun intended) as she posted a picture of her, Lena, and Maisie on Instagram.
You got to love Emilia Clarke's humor, right?
READ ALSO: What Can We Expect On The Next Season of 'Game of Thrones'? WARNING: SPOILERS!
Their fellow actors in the show, Kit Harington and Peter Dinklage, are also in the running for "Outstanding Supporting Actor in a Drama Series."
It may took a while for the fans to rejoice for nominations again as HBO just confirmed that the show's seventh season won't premiere until next summer. No official date is given yet but this only means they would not be able to compete for the Emmys the following year – this is because the esteemed awarding contains an eligibility window. This year, for a drama series to compete, six of its episodes should air between June 1, 2015 and May 31, 2016. The sixth episode of the next season won't meet the window because of the delay.
In addition to the antagonizing wait, it has also been confirmed that instead of the usual 10 episodes, season 7 would only consist of 7 episodes. Truly, winter is here.
Game of Thrones is a fantasy drama television series produced by HBO, initially premiered on April 2011. The show is an adaptation of George R.R. Martin's, A Song of Ice and Fire. The show's sixth season, with ratings averaged over 25 million per episode, ended on June 2016. -Kami Media
RELATED: Game of Trains: Hilarious memes on commuting in PH
Source: KAMI.com.gh