Creepy crawlers such as insects, spiders and scorpions are small but terrible. Both little children and fully-grown adults scream and run at the sight of these tiny but fierce creatures.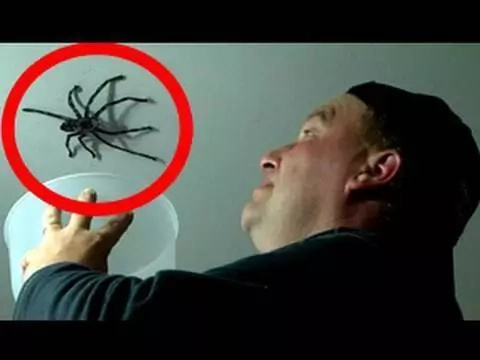 Here are some of the terrifying creepy crawler attacks on humans caught on video that will freak you out. Some of these clips are thrilling, some are gross and some are hilarious. Check them out!
1. Monster spider attacks daddy
Daddies are responsible for putting food on the table, being a good role model to the children, loving the wife, and protecting the family from giant spiders.
The brave daddy in this video fought his fear and tried to capture a giant spider on the ceiling. Unfortunately, his fear took over him in the end as the big spider attacked him when tried to make his move.
READ ALSO: LOOK: 19 pictures show animals giving therapy to humans; the results will melt your heart!
2. Giant maggot parasite living on boy's scalp
Some boys like domesticated animals as their pets like dogs and cats. However, some boys prefer to have more exotic pets such as snakes, lizards and maggots.
This boy had a giant botfly maggot living on his scalp for a month before he decided to have it removed. The removal of the maggot from the boy's scalp might make your skin crawl and make you vomit.
READ ALSO: The reason why this woman's pet snake was losing weight will scare you!
3. Ants build nest in poor girl's ears
A 12-year-old Indian girl had 1,000 ants removed from her ears. She first complained of irritation and then ants started coming out of her ears.
4. Flying cockroach
Cockroaches are pretty disgusting when they are crawling on the ground. But when they start to fly? The toughest men usually start squealing at the sight of a flying cockroach!
READ ALSO: MUST-SEE! Young fan's reactions are the cutest! Captured during an 18-Inning Baseball Game
5. Scorpion stings guy
Thrill-seekers and adrenaline rush junkies are known for doing highly dangerous activities to get excitement out of life. This particular thrill-seeker decided to excite himself and his viewers by getting stung by a scorpion. The slow-motion clip of the scorpion attack is scary and fascinating at the same time.
If these videos did not satisfy you, here is one more insect attack that will make you cringe.
RELATED: Find out which celebrity has most beautiful face according to science
Source: Kami.com.ph