- During Miss Universe Pia Wurtzbach's visit to the Department of Tourism, she expressed her desire to be the country's tourism ambassador
- The beauty queen stopped by the DOT on Monday prior to meeting President Duterte at Malacañang
- One of Pia's goals is for the Philippines to host the Miss Universe pageant next year
The reigning Miss Universe Pia Wurtzbach promised that she will continue to be the Philippines' Ambassador of Goodwill during her press interview at the Department of Tourism.
"I [will] still continue on pursuing that goal of being a great ambassador as I go throughout my reign, as I visit different countries around the world as Miss Universe. I will continue on doing that," she said.
Along with Department of Tourism Secretary Wanda Teo, Wurtzbach has been consistently pushing for the Philippines to become the next host country of the Miss Universe pageant.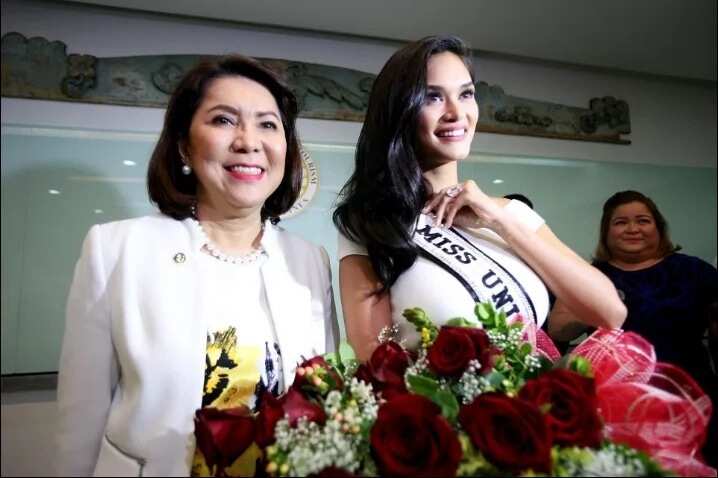 READ ALSO: Sanya Lopez, the next Pia Wurtzbach?
"It's my personal dream and the dream of a lot of Filipinos that someday we'll see the Miss Universe pageant to be held here. We are keeping our fingers crossed," she shared.
While Malacañang has yet to officially give a go signal for the event, Wurtzbach said she will continue to promote the Philippines wherever she goes.
"As I go through my reign, this year and for the years to come -- it doesn't end when I pass on my crown -- I will still proudly wear the Philippines wherever I go," she said.
READ ALSO: WATCH: Miss Universe Pia Wurtzbach catches 'em all on New York streets
In a separate interview, Tourism Secretary Teo said that hosting the international pageant would be a remarkable business opportunity that comes at zero cost for the Philippino government since the private sector is willing to shoulder all expenses. She also added that she will reach out to possible sponsors once it is confirmed that the Philippines is the next host country.
"We really hope that the President will grant our request. It would give a big boost to business and livelihood of millions of people in line with our shared tourism program. That means it is our goal to include and involve every Filipino," Teo explained.
The DOT chief said that the government will need to raise a budget of USD 12 million or roughly around PHP 560 million for the event.
READ ALSO: Philippines to host the Miss Universe 2016?
However, in a separate interview, Secretary Teo said that if the international beauty contest would be held in the country, she wants to have it moved to May instead of January to give way to other big festivals happening at the start of the year such as the Chinese New Year celebration and the Sinulog festival.
The Philippines last hosted the Miss Universe pageant in 1994. - Kami Media
RELATED: OFWs working in UAE soon to benefit from free housing
Source: Kami.com.ph