2 QCPD 'kotong' cops caught red-handed
- Two police officers arrested a suspect and allegedly asked for P15,000 from the suspect's family
- Not having enough money, the complainants said they have already given an initial P5,000 last Saturday
- The crooked officers were caught in an entrapment as they were in the process of receiving the P10,000 from the suspect's kin
The two rookies of the Quezon City Police District (QCPD) – PO1 Edgar Allan Co and PO1 Ronald Clarin, both from Batasan Station 6 were caught red handed right at the back of the police station as they were receiving the money from the suspect's family. Co and Clarin had brought the suspect into custody earlier that day.
An entrapment operation was successfully conducted in Quezon City last Monday after the arrested suspect's kin reported to the station commander that two police officers were trying to extort P10,000 from them.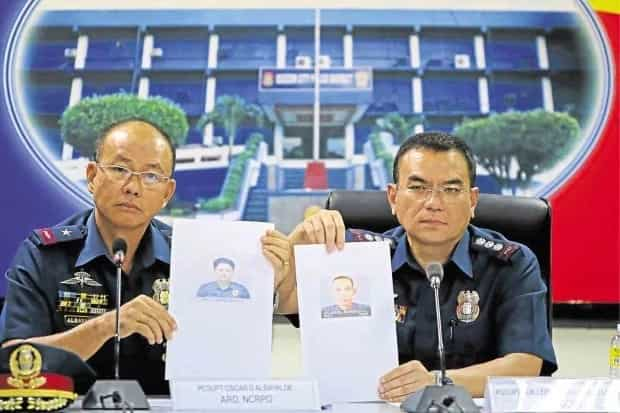 Acting on the report, Supt. Lito Patay, Batasan police station commander, immediately planned for the entrapment operation to catch the "kotong" cops.
READ ALSO: Duterte to pardon cops abusing authority?
According to the suspect's kin, the two crooked police officers were trying to extort P15,000 from them in exchange for dropping the charges against the suspect. However, considering that they also don't have the amount that the "kotong" cops were asking for, they decided to give it in tranches.
They claimed that they have already given one-third of the P15,000 last Saturday to one of the cohorts of the policemen named PO3 Angelito Resureccion. This policeman, however, has already stopped reporting for duty since then.
Chief Supt. Oscar Albayalde, National Capital Region Police Office director, said that the arrest of the two police officers was in accordance with the President's directive to clean the ranks of policemen. He also mentioned that they do not tolerate extortion activities. In emphasis, he said that the PNP is serious in its efforts to internally cleanse the ranks of police officers, weeding out the rotten eggs.
READ ALSO: To the rescue: SolGen to protect police on war against drugs
Clarin and Co would be facing both criminal and administrative charges. They would be charged criminally for robbery-extortion. Administrative charges that they would face will include serious irregularity in the performance of duty and grave misconduct.
In the event that the two police officers are found guilty, they will be facing two to seven years in prison. They would also have to brace themselves for being dismissed from service. - SD, Kami Media
RELATED: Is tagged narco-general Vicente Loot a friend of top drug lord Peter Lim?
Source: KAMI.com.gh