The Political Gospel: Cayetano clobbered Marcos
Editor's note: Cayetano clobbers Marcos, Robredo comes out down to earth and competent, while other candidates eclipsed in CNN Vice Presidential debates. 'This is Atty', Jesus Falcis' opinion on the recently held VP debate and it does not reflect Kami.com.ph's views.
Corruption, as always, took a center stage in the first and only Vice Presidential debates. The issue of corruption reverberated in all subsequent questions such as  development, transportation, and internet connectivity. Amidst the questions, a heated exchange emerged between two candidates – Cayetano and Marcos. Cayetano appeared to be gunning after Marcos to get voters of Duterte to solidify under him and not Marcos.
Senator Allan Cayetano successfully clobbered Senator Bongbong Marcos on corruption and the legacy of Martial Law while Congresswoman Leni Robredo highlighted her grassroots experience with the poor and marginalized. Senators Gringo Honasan and Antonio Trillanes answered competently on most issues but were eclipsed by the Cayetano-Marcos rivalry. Senator Escudero answered most questions in general and with clichés, sounding robotic and monotonous.
Main fight: Cayetano-Marcos Round 1
Cayetano came prepared with the facts. Marcos claimed that he was not tainted at all by corruption. Cayetano rebutted Marcos by confronting him with the facts – recalling the billions of dollars of ill-gotten wealth of the Marcos family recovered and still to be recovered by the Philippine government, raising the recent complaint for plunder before the Ombudsman against Marcos' for misusing his 2011 pork barrel funds, and pointing out the disparity in his statement of assets and liabilities with his income.
Marcos could only offer general denials while smiling uneasily in the face of Cayetano's facts.
Cayetano pressed further reminding the young Marcos of his mother Imelda Marcos' statement in the 1990's how the Marcos family practically owned all the major businesses in the Philippines. Cayetano also lambasted Marcos for hypocrisy in saying that he fights against corruption while not attending any Senate hearing on corruption.
Marcos again offered general denials while trying to throw back accusations of corruption. When Cayetano railed against the pork barrel and tied it to how politicians become Congressmen and Senators as a way of life, Marcos implied that Cayetano became a Congressman and Senator through corruption.
Cayetano clarified that his statement was sarcastic and should have been understood by Marcos, who Cayetano said studied in Europe although with a fake diploma from Oxford.
Halftime break: Robredo vs. Escudero
On the question of pork barrel, Congresswoman Leni Robredo raised pointed questions against Senator Chiz Escudero on the pork barrel and his track record. When Escudero said discretion of politicians must be minimized to minimize corruption, Robredo asked him what he did during his term as a Congressman to lessen discretionary use of his pork barrel. Escudero deflected the question by saying that he passed an appropriations act that banned the pork barrel. Robredo insisted on her question saying that Escudero didn't answer her question. The moderators clarified the question again to Escudero, who at that point looked flustered.
Cayetano-Marcos Round 2
The Cayetano-Marcos rivalry heated up again when it came to the question on political dynasties. Cayetano was talking about political dynasties such as the Marcoses where Senator Marcos tried to butt in. Cayetano delivered a killer line saying it was his time and rhetorically asking Marcos, "Pati ba naman yun nanakawin mo rin?" (You would also steal my time?)
On the question of human rights violations, Marcos answered the moderators that he cannot apologize for the sins of his father but only for his sins. He added that he cannot return what he does not have.
Robredo interjected and cited two court decisions, one in the United States and one in Singapore, ordering the Marcos family, including Bongbong Marcos, to return ill-gotten wealth to human rights victim claimants.
Cayetano pounces on Robredo's interjection and accused Marcos of his own sin of not returning such ill-gotten wealth, amounting to billions of pesos.
Marcos laughed the allegations and questioned where Cayetano got his numbers.
Cayetano brazenly asked the audiences to fact check him and research his citation of facts. He cheekily dared Marcos that if his facts are wrong, he would withdraw from his candidacy. If Cayetano was right, Marcos should return the money.
Marcos did not accept the dare and merely chuckled.
Robredo comes out as down to earth and competent
The candidates were asked about the issue of development and transportation. All candidates agreed that Metro Manila should be decongested and that development should be brought in the provinces.
Robredo mentioned that mass public transportation should be prioritized, citing that 70% of Filipinos are commuters. She humble mentioned that she was one such commuter, travelling by bus from Quezon City to Naga on a weekly basis.
Later, Robredo discussed the numerous bills she has authored and shepherded into passing as laws. On the question of the West Philippine Sea dispute, Robredo supported the ongoing arbitration case but called for the need to improve the country's defensive capabilities.
Knockout: Cayetano-Marcos Round 3
On the question of solving traffic and other problems, Cayetano repeatedly mentioned the promise of his tandem with Duterte of solving it through political will in three to six months. He promised that they will resign if they fail to accomplish their task within the timeline.
Marcos took the opportunity to take a jab against Cayetano by mentioning that Duterte will hand over the presidency to him and not Cayetano if criminality is not solved within three to six months.
Cayetano clarified that Duterte said that only when he was campaigning in Ilocos, the bailiwick of the Marcoses. He went further and said it was ok even if that was the case as long as Duterte gets the votes to win the presidency. Cayetano said that he was only there to help Duterte and that he is 100% for Duterte.
Cayetano contrasted himself with Marcos by pointing out that Marcos was a political butterfly aligning with different presidential candidates depending on where he was campaigning, such as supporting Binay during Marcos' campaign sorties in Cavite. Cayetano delivered the knockout punch against Marcos by portraying him as a traitor when he said, "Isasaksak nya ang mga president para sya ang maging president." (Marcos will stab the president so he will become the president)
Closing Statements
The debate ended with each candidate giving their closing statements.
Honasan, Trillanes, and Cayetano all promised to ensure the safety of Filipinos and give them a peace of mind. Cayetano however insisted that his tandem with Duterte can deliver such promise in three to six months. Trillanes earlier called out Cayetano's promise as false and unrealistic to the point of fooling the people.
Robredo closed her speech with the most sincere statement; spelling out how she was hesitant and unsure of her candidacy in the beginning but was reminded and inspired by each Filipino she met to continue her candidacy. Robredo capped off the debate with the most memorable line of the night – "May the best woman win!" Robredo was the only woman in the debates.
By Jesus Falcis
 ____________________________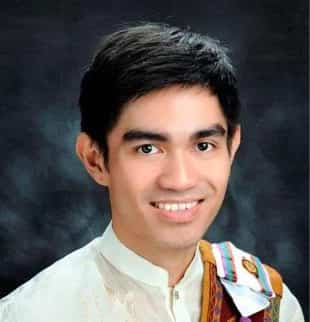 Atty. Jesus Falcis took up law at the University of the Philippines- Diliman. He recently filed a petition before the Supreme Court urging it to nullify Articles 1 and 2 of the Family Code, which prohibits same-sex marriage. He was hailed Asian Debate champion in 2013.
Source: KAMI.com.gh