Watch: This fuzzy policeman does pushups like a real officer of the force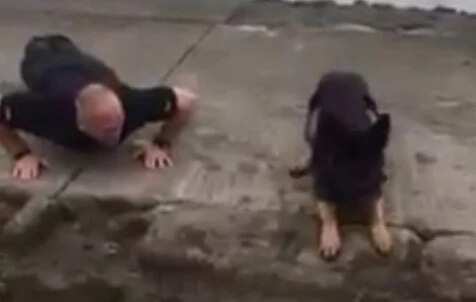 This cute video of a dog doing pushups with a police officer has gone viral across teh internet. It is part of campaign to increase awareness of veteran suicide and has people doing 22 pushups under the hashtag #22pushups.
This is PC Steve Hopwood, one of our Dog Handlers. He is doing #22Pushups everyday as part of the #22Kill challenge to raise awareness of VETERAN suicide. This is #day9 of 22 and he is joined by another member of the team! Clever boy!

22 US veterans commit suicide per day and this is echoed in the British former-Service community. Furthermore, suicide is the single biggest cause of death in men under 45 in the UK.

Help spread the word and look after each other. Someone you know may be suffering in silence.

Posted by Avon and Somerset Constabulary on Sunday, July 17, 2016
To take part in the movement record yourself doing as many pushups as you can and upload the video to social media with the hashtag #(number of pushups you did)pushups for #22KILL. So if you did a 100 pushups it would be #100pushups for #22KILL.
Source: KAMI.com.gh