"I heard a blood-chilling scream" said neighbour. A father came from work and saw this...
-In Kazakhstan, a father found his wife and three children hanging when he came home from work
-Police suspect the mother killed her children and then killed herself
-She might have been suffering from seriouos mental health issues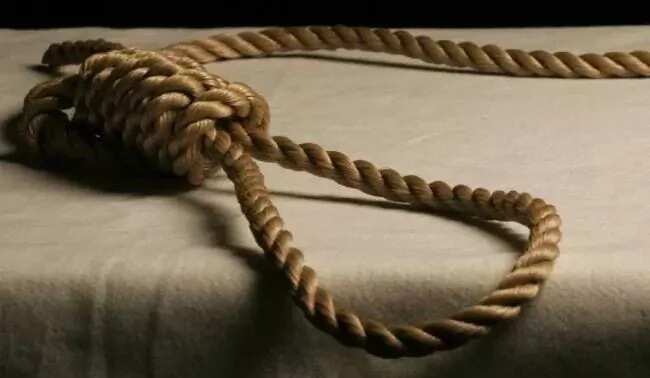 This horrible story happened to a normal family in a city Shemonaiha in East Kazakhstan. A 35-year-old woman hung her three children and then hung herself. The reason she did this is unknown and the police are still investigating the triple murder and suicide.
On the evening of the 27 of April Erdos, the father, came back home from work as usual. He was ringing for doorbell because he couldn't open the door from the outside with his key; it was locked from the inside.
He knew his wife and children should have been home by now so he kept on knocking. He was afraid that something bad might have happened to his family so he asked his neighbor if he could climb through their balcony.
He climbed through his neighbor's balcony, kicked down the balcony door, and entered his living room. What he saw next shocked him.
His wife, Indira, had hung herself on a clothesline thrown over the bedroom door.
His son, Nursultan, who was only two years old he found in the bathroom. Around his small neck was a noose out of a clothesline.
"I heard a blood-chilling scream. I ran up the stairs and tried kicking down the door. He (Erdos) opened the door for me and he was holding his son in his arms, with a noose around his neck. I saw a girl a bit older on the floor who seemed unconscious. I ran up to her and tried to find a pulse, but couldn't find any" – said the neighbor Aidana.
She was the one who called the police. Later the police found a death note from the mother.
"I, Indira E., ask to punish those who are guilty in my death and the deaths of my children, which pushed me to this deed."
The police presume that the mother hung her children, and then hung herself. They opened a case for 'murder' and 'incitement to suicide' regarding the dead woman. They are currently looking for what could have pushed her to kill herself and all her children.
There are guesses that Indira could have drugged her two younger children so they would not struggle. After the two children were dead she sat and waited for her older daughter to come back from school. After she killed her eldest she wrote the note and hung herself on what remained of the clothesline.
The family recently moved to Shemonaiha from Ust-Kamenogorsk so most the neighbours didn't know them that well. Neighbours reported that they often saw the children playing in the yard, at the playground. They never heard loud quarrels between Erdos and Indira.
Erdos' mother would often babysit the children. They were very loved in the family.
The oldest daughter was in fourth grade and had good marks at school.
The funeral was held on the 29 in Ust-Kamenogorsk where Erdos' family and colleagues came to support him.
Erdos' father, Mautkazi, confirmed the version of Indira's poor mental health.
"I can't officially say anything, but Indira often displayed signs of a person suffering mental health issues."
He often noticed that Indira would often be aggressive towards her children, but she was always easily calmed.
"She was a housewife, with no official job. She finished university and worked as an economist's assistant or something before getting married and quitting that job. After giving birth to three children it didn't seem like she planned on returning to work."
"My son is in very poor health after this incident. They gave him a hefty vacation leave at work so he could tend to his psychological health. Everybody is trying to support him."
Local psychiatrist Alena Bahmetieva claims that the actions of Indira are that of a person suffering from heavy paranoia or schizophrenia. These people require isolation from society.
These types of people are especially dangerous to those they are the closest to; in their deranged mind, they will often imagine conspiracies and such.
She also added that it is very important that families try to contact psychiatrists as soon as they see suspicious symptoms in family members. There is nothing shameful in going to a psychiatrist.
Source: KAMI.com.gh