Teachers serve children fruits only for show
- Chinese teachers served food to children and collected it back after recording a video with some of them not even being able to touch it in the first place
- The pair sent the short clip to the parents in an attempt to deceive them but failed
- They have earned the ire of web users as the video is nearing 100,000 views
Teachers are often regarded as morally upright individuals as they tend to stand as a model adult to their students. Those who belong in the profession know of the heavy burden they carry on their shoulders as they were referred to be the molders of the future generation. Because of this, they were naturally expected not to only teach the children academic lessons but to allow them to learn significant matters in life as well. In the process of doing so, they are highly likely to influence the pupils with their actions and values.
Regrettably, not all those who belong in the teaching world consider their job as vital to the society. Some only takes the work as another step in the career ladder, while others only do well for show in hopes to impress the authorities or the parents. The latter was what appeared to happen in a kindergarten in the city of Jilin, located in the province of the same name.
READ ALSO: These kids forgot to study the night before, find out what they wrote on their exams
Through surveillance camera footage, the Chinese teachers were seen serving the children plates of food and candies. The pair of teachers was busy as one assisted a pupil to his seat, while Teacher Ma distributes the food from a tray. The class exhibited proper decorum, sitting quietly and not making a fuss – not instantly grabbing for the food places in front of them.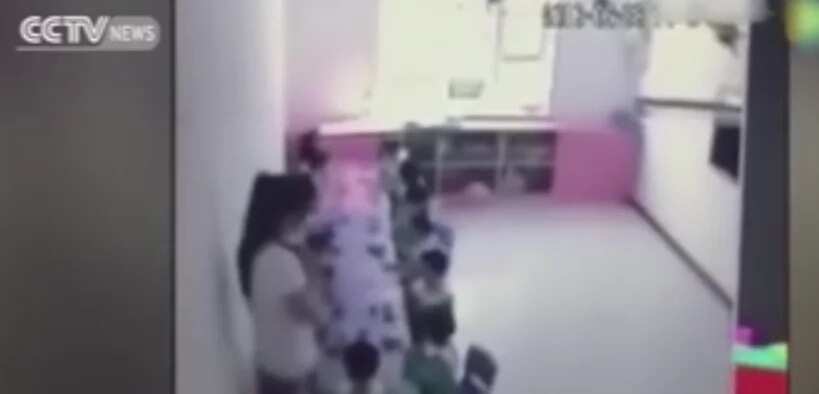 It was nice sight to see. Teacher Ma even took her phone out and recorded a video of the scene which she intended to send to the parents afterwards. However, what was expected to happen did not occur as the teachers collected the food back. It seemed that entire situation was only for a show.
READ ALSO: WATCH: Male student assaults teen girl; how their classmates react will make you angry!
The parents probably felt that something was off with the clip sent to them as they demanded to be shown the entire footage.
The video is slowly becoming a hit on the internet with over a thousand expressing their dismay on the teachers' actions, calling the pair 'bullies' and 'pathetic.' - Kami Media
The video was shared by China's CCTV News on their Facebook account on Friday, July 15.
RELATED: LOOK: Crying father with medals goes viral again; find out why
Source: KAMI.com.gh