- Foreigners are asked to judge who among the AlDub and Jadine love teams they love better
- AlDub garnered a landslide win of 3-0
- As how they see it, the JaDine is less natural and AlDub has the chemistry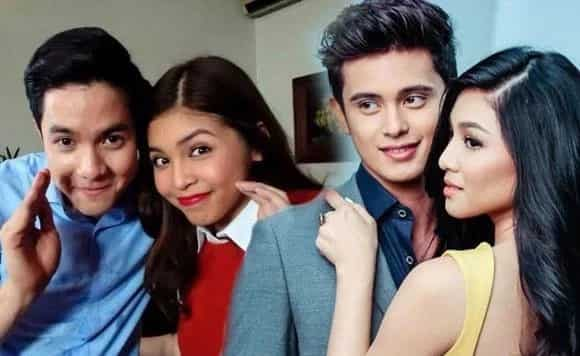 Like in the Hollywood, Filipinos are also fond of the showbiz entertainment. Showbiz love teams are no exemptions.
On a twitter request, fans wanted to see who among the hottest love teams in the country killed the spot. But here is the twist – they are to be judged by people who do not know them, or haven't even seen them ever.
But wait, who in the country does not know the famous sweet couple #JaDine (for James Reid and Nadine Lustre) and the full-of-chemistry-and-funny #AlDub (for Alden and Yaya Dub)?
No one.
READ ALSO: YES! AlDub tops 2016 'Most Beautiful Stars'
So taken from a video in Daily, foreigners who have not seen or heard of the two love teams were asked to judge the latter and tell them who among the two hit their love bone.
So these Americans were subjected to judge the love teams based on several categories.
First, for Round 1, they reviewed each of their official Facebook pages.
Of course, they have their own Facebook page. The subjects were even surprised that they do. But Filipinos seem to love that advertising style.
READ ALSO: Find out what co-star Cai Cortez has to say about AlDub
Obviously, they love the Dine in the #JaDine.
"I like her a lot. I'm not as big of a fan of his," says one referring to Nadine Lustre.
They noticed the chemistry. One of the guys even said he understood why people used to say they should consider being a couple. James and Nadine are officially together just this February this year.
But for the Facebook Page category, #Aldub wins this time. The first thing they noticed is that the funny on-screen couple has way more than likes than the previous one they checked.
READ ALSO: #Happy1stMAINEniversary: How AlDub captures Filipinos' hearts
But as to who among the two are more natural, they went for Aldub without even thinking at all. Score: AlDub 1, JaDine 0.
For movie trailer segment and music video segment, AlDub once again won the spot making it a 3 points to none in favor of AlDub.
"There's chemistry! Why are they not dating?" exclaimed one of the guys.
"If I had to pay a hundred thousand dollars to see the one instead of the other, I would watch the second one," the other guy said referring to the AlDub movie trailer for Imagine You and Me.
READ ALSO: LOOK: A sneak peek of Aldub's Italy movie
They were honest about their preference for the AlDub over JaDine. For one, they do not know these people for real anyway. As how they said it, GMA's hottest love team is a lot cuter and more natural on screen. That's how they see it, though.
And the verdict is 3-0. Aldub for the win! - Kami, Media
Video from Fomo Daily
RELATED: LOOK: AlDub visits sick fan; what they did after will melt your heart
Source: Kami.com.ph