- Cemex Holdings Philippines is finally listed on Philippine Stock Exchange as they offer over 2 billion shares that represent 45% of capital stock of the company
- President and Chief Executive Pedro Jose Palomino reported their plan on investing $300 million in building a cement plant in the Philippines
- The giant company expresses its strong commitment to support increasing demand in the Philippines and also to facilitate the development of the country
The Philippine Stock Exchange has marked the beginning of a successful and strong business environment as Cemex Holdings Philippines Inc. successfully debuted at the PSE last Monday.
Shares were opened by Cemex Philippines, the country's subsidiary of Mexican cement maker Cemex, at P11.20 which is 4.2 percent higher than their initial public offering of P10.75.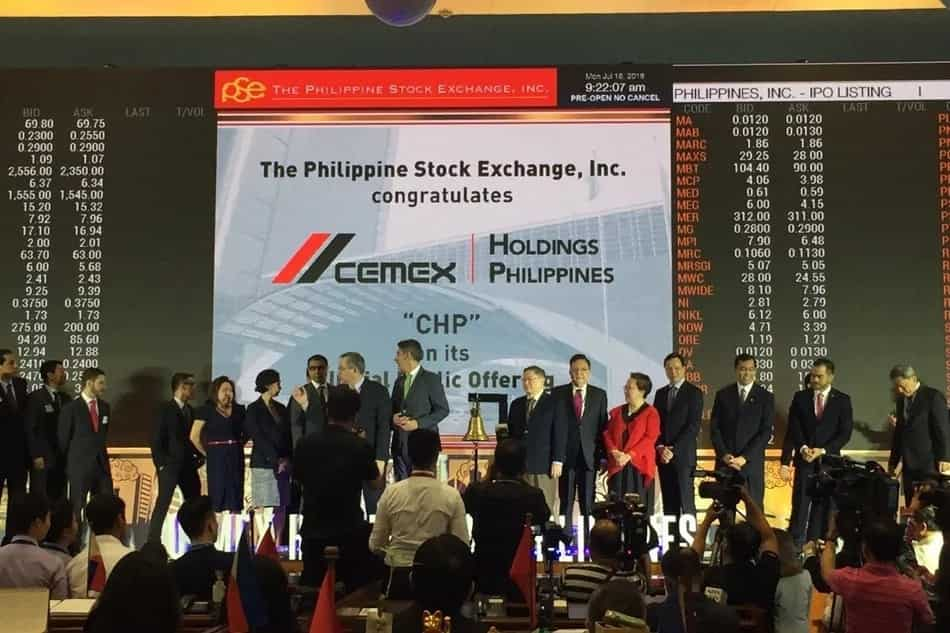 Cemex raised P25.13 billion, which is about $536.62 million, in the Philippines' biggest IPO in three years. The amount rasied by Cemex the second biggest IPO (in peso terms) in PSE after SM Investments Corporation and third after Robinson's Retail Holdings, Inc. (in US dollar terms).
The IPO shares, which is over 2 billion, represent 45 percent of the company's capital stock. Proceeds will cover the company's short-term and long-term loans from Sunward Holdings BV, amounting to $504 million.
READ ALSO: What will happen to China at the Asia-Europe summit
The firm is focusing on the government's plan to allocate a generous budget on developing massive infrastructure. Cemex president and chief executive Pedro Jose Palomino said that the company is planning to invest $300 million in building a cement plant in the Philippines.
"We are preparing our facilities for the increasing demand in the Philippines, reiterating our commitment to support the development of the country," as expressed by CEMEX Asia President Joaquin Estrada.
READ ALSO: LOOK! Duterte's new economic adviser wants to lease islands to multi-nat'l corps
He added: "Our goal is to rely on local capacity. In 2014 we spent $100 million for our plants, now we have allotted $300 million to double our capacity for Solid Cement in Luzon [Antipolo City] from 1.5 million tons to 3 million tons."
Head of equity investments for BPI Asset Management Martin Enrile remarked that the Philippine market continues to be driven by foreign inflows despite of its pricey level. Enrile further stated that our market is currently on the right track so we need to stay positive in the business environment. - Kami Media
READ ALSO: Investors start recovering from Brexit
Source: Kami.com.ph