- PNP Chief Ronald "Bato" dela Rosa has admitted that all they have against Peter Lim are intelligence reports which would not hold in court
- However, Dela Rosa explained that intelligence reports usually have strong basis
- The NBI is currently investigating the exact identity of the Peter Lim in Cebu named by President Duterte as being a drug lord
- Bato said that he would shoot drug lords dead if they meet in person
Philippine National Police (PNP) Chief Director General Ronald "Bato" dela Rosa admitted on Monday that the PNP did not have enough solid evidence that Peter Lim, a businessman from Cebu, is a drug lord.
"So far, what we have are just intelligence reports that there's a drug lord in Cebu with the name of Peter Lim. But we know that intelligence reports don't hold water in court," Dela Rosa told the media during a conference.
The PNP Chief clarified that he is not yet sure whether Lim is a drug lord or not but added that intelligence reports usually have a strong basis.
READ ALSO: Duterte to pardon cops abusing authority?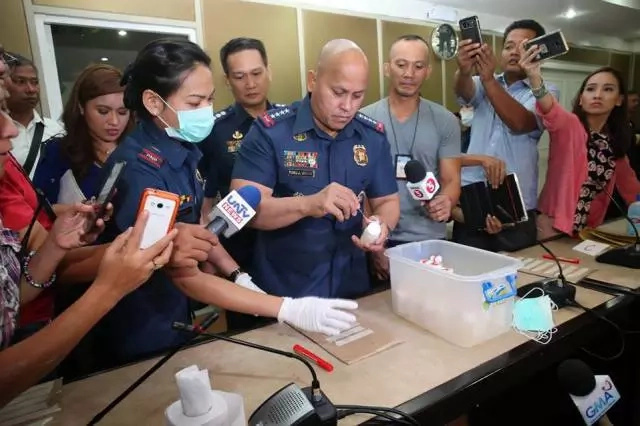 (Photo from mb.com.ph)">
"I'm not saying that Peter Lim is not a drug lord. And I'm not saying that he's a drug lord. But I don't think intelligence reports would just come out of the blue. Drug lords would always deny their involvement in illegal drugs," Dela Rosa explained.
Lim has denied that he is the "Peter Lim" named in the intelligence reports and exposed by President Rodrigo "Rody" Duterte on national television as being one of the biggest drug lords in the Philippines. Duterte has also promised to name more drug lords, government officials and police officers with ties to illegal drugs.
According to Justice Secretary Vitaliano Aguirre II, the National Bureau of Investigation(NBI) is already working to establish definitively the exact identity and culpability of the Peter Lim accused by Duterte of being a drug lord.
READ ALSO: 'Bato' apologizes to Cebu City Mayor for disrespect after dismissing cop chief
Aguirre added that the Department of Justice (DOJ) could only start investigating once the NBI has formally filed charges against the accused.
The NBI has revealed that there are 4,000 people named "Peter Lim" nationwide and 400 in Cebu City.
To clear his name, the Cebuano businessman met with the President in Davao City on July 15. Duterte advised Lim to submit to the NBI investigation in order to prove his innocence.
READ ALSO: FIND OUT: List of celebrities involved in drugs
Dela Rosa explained that drug lords are hard to defeat in court because of their illegal connections with judges, prosecutors, prison officials and the media. The PNP Chief added that if he would encounter a drug lord in person and there are no witnesses and CCTVs around, he would surely shoot him dead.
"Now is the time to kill them," he said. -Kami Media
RELATED: LOOK! De Lima denies 'protecting' drug lords
Source: Kami.com.ph