Ateneo Campus Declared Safe After Bomb Threats
HIGHLIGHTS: Absolutely not a drill. The Ateneo campus was declared safe at 2 p.m. today, after security office reported receiving bomb threats
The Quezon City Bomb Squad and K9 Units conducted two sweeps on the sprawling Ateneo de Manila University (ADMU) campus, until the lockdown finally ended at 2:00 in the afternoon.
The campus was declared safe after the university security office has requested the Explosive Ordinance Disposal and QC station 9 to sweep the grounds and buildings at around 8:30 this morning.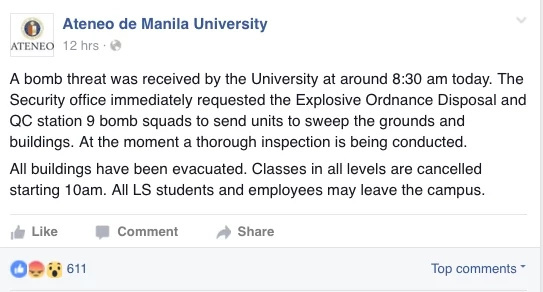 The Guidon, ADMU's official student publication, reported that two text messages were received through the helpline numbers of the Associate Dean for Student Affairs (ADSA). (The Guidon updates)
In the report were the exact messages as follows,  "pgdting ng ala9:00 mlkng psbog t2ma s ateneo dguan mga s2dyante nyu (At 9:00 AM there will be a major explosion that will hit Ateneo and result in students' bloodshed)"; "it2ya nyu b bhay ng s2dyante nyu (Will you risk the lives of your students)?"
The number used has also been traced by SMART, the telecompany provider, and the Quezon City Police District.  
Meanwhile, Ateneans actively reported on Twitter bits of the situation after they were asked to evacuate the buildings.  
During the lockdown, ADMU official student publication, The Guidon, called out the public not to bring back the bomb scare which happened two years ago, and later declared a hoax by Quezon City Police.
In 2014, the text messages received by still unidentified sender, caused not only distress on students and parents, but also traffic among commuters.
The latest bulletin of the university posted on its Facebook page, advises that classes and work will resume tomorrow, Tuesday.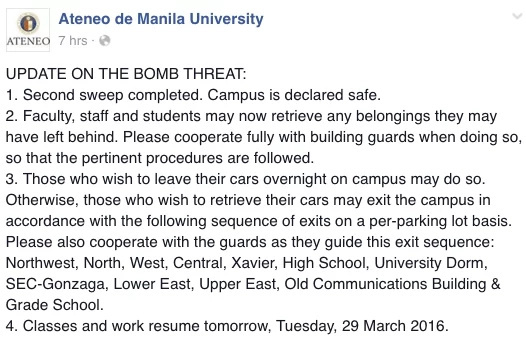 Photo Credits
Ateneo Science Education Buildings
Robert Alfie S. Peña
https://commons.wikimedia.org/wiki/File:ScienceEducationComplex_cut.jpg
Source: KAMI.com.gh