- A truck driver named Saul Vazquez captured a photo of a motorcycle accident
- The image showed a white shadow many believe to be the soul of the motorcyclist
- After posting the image online, the photo went viral
While driving his truck last Tuesday evening, Saul Vazquez in Powell County Kentucky captured a photo that seems to depict a man's soul leaving his body right after a serious motorcycle accident. After posting the image online, the photo went viral.
For many that believe in life after death, this photo may very well be the evidence that they are looking for.
The image shows a crowd of people surrounding a body of a man who died in a motorcycle accident. Right above the hat of one of the state trooper on the scene is a transparent, cloud-like figure in the shape of a human being.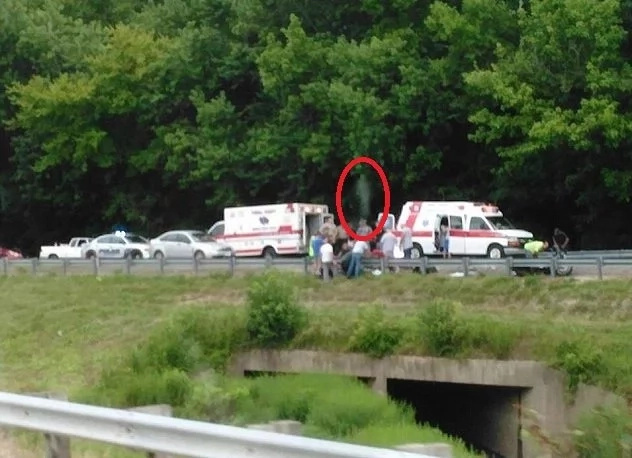 READ ALSO: WATCH: Thai model goes on live TV and becomes possessed by an evil spirit!
For many, this may very well be the soul of the biker departing for the afterlife.
Vazquez, who came from Mount Sterling, was driving his truck along a service road on the Bert T Combs Mountain Parkway around 6:30pm on Tuesday night. Seeing the commotion on the other side of the road, he stopped and captured the viral photo from the cab of his truck.
After Vazquez posted the picture online, the image exploded on Facebook, circulating the internet with thousands of shares by netizens who believe that the photo shows evidence of the man's immortal soul.
READ ALSO: This wife went on a honeymoon trip sans husband, look at what she did!
The truck driver posted the image online with the caption: 'Zoom in and pay attention to the shadow just off the top of the state trooper hat All I say is I hope everyone involved is okay.'
The motorcyclist, who has yet to be identified, was gravely injured after he crashed along the road. Although the man was rushed to the emergency room, he later passed away from his wounds. But for many, the man's soul already departed long before he reached the hospital.
The motorcycle driver is allegedly the only person to have been affected in the crash. - NB, Kami Media
READ ALSO: When man found this dog, everyone expected it to die. But learn what happened next
Source: Kami.com.ph