- Being the hardest hit city, Baguio remembers the deadly earthquake that shook Luzon 26 years ago
- Locals remembered the 1990 quake through offering flowers and candles and tree planting activities
- A hundred were reported dead and thousands injured caused by the killer quake
At exactly 4:26 in the afternoon of July 16, 1990, a 7.9-magnitude earthquake shook Luzon. Over 2,000 people died. One of the hardest hit was Baguio City – several buildings collapsed, including the University of Baguio (UB) where 23 students and teachers died, and the famous Hyatt Hotel where more than 80 people died.
After 26 years, the UB has been rehabilitated and is now one of the biggest universities in Baguio. But the land where Hyatt Hotel once stood remains abandoned giving an eerie reminder of the killer earthquake.
To commemorate the quake, the Senior Citizens of Baguio Association of Retired Persons (SCoBARP) offered flowers and candles to Our Lady of Madonna in Benguet. They prayed for those who died and those who survived.
READ ALSO: [VIDEO] It's final! Brillante Mendoza to direct Duterte's 1st SONA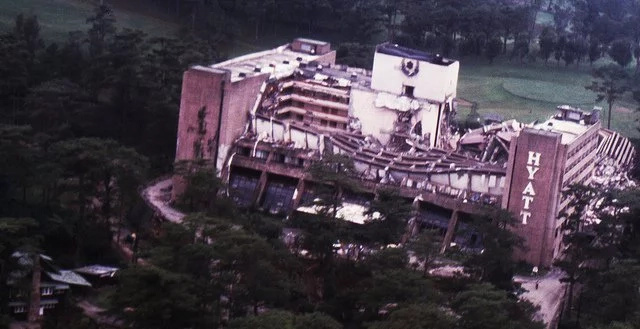 "This is one way of saying, Thank you, Lord, that we are still alive, dedicated to the thousands of victims na namatay dito." [Dedicated to the thousands of victims that were killed here] a member of SCoBARP said.
Most of them consider it a miracle that they survived the earthquake.
"I told my former student that they should come in front of me and they did not listen to me so those who stayed behind all died." a former University of Baguio professor remembers.
READ ALSO: WATCH: 5 politicians that will make you go LOL
Members of City Disaster Reduction Management Council, Baguio Correspondents and Broadcasters Club and elementary pupils commemorated the earthquake in Busol Water Shed.
The kids planted trees in the watershed. A part of Busol Watershed is designated as a living memorial to those who died in the 1990 earthquake.
RELATED: LET'S VOLT IN! MMDA has joint operation for anti-colorum campaign
Source: Kami.com.ph