- The No-U group organized a rally to oppose China's aggression in the South China Sea
- Moments before the demonstration, dozens of the protesters are arrested by Vietnamese authorities
- The rally came after the ruling of the U.N tribunal, rejecting China's claims to the '9-dash line'
On June 17, a couple of dozen Vietnamese men and women were arrested after they rallied for an anti-China demonstration at the heart of Hanoi. The protestors had gathered to support the Hague's ruling dismissing the claims of Beijing in the South China Sea.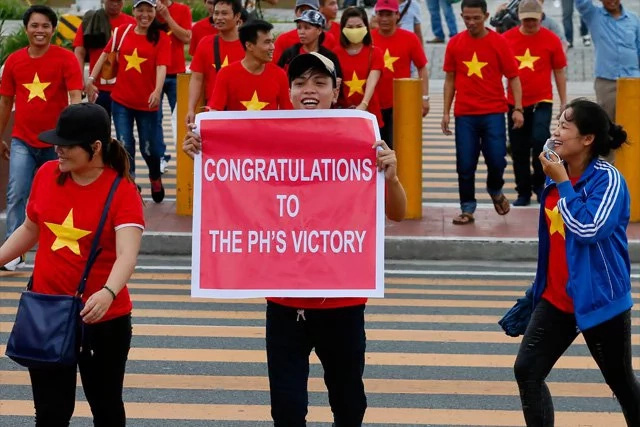 Around two dozen of the protesters were taken away by the authorities from the beautiful Hoan Kiem Lake, Hanoi, minutes before the rally began. The lake was heavily guarded by policemen and cars were banned from the streets. The demonstration was unable to proceed.
The protesters wore shirts of the Vietnamese flag and carried posters congratulating the Philippines' victory in the Permanent Court of Arbitration.
READ ALSO: Man dubbed 'bravest Filipino' for protesting alone against China
Last Tuesday, July 12, the Hague-based tribunal ruled in favor of the Philippines, rejecting China's claim of sovereignty over the majority of the South China Sea. Both the Philippines and Vietnam are claimants to islands and land features in the disputed area.
The demonstration, organized by the No-U group in Hanoi, hoped to oppose China's aggression and expansion in the South China Sea.
The Vietnamese Communist authorizes have already cracked down on protests like these in the past for fear that these rallies would have the ability to initiate dissent among the population.
READ ALSO: Biden warns China to abide by rules
Although the ruling is considered as compulsory by the international community, the lack of enforcement has made it easy for China to reject the verdict of the U.N. tribunal.
China has reiterated that it holds sovereignty over the "9-dash line," basing their argument on historical claims and international law.
The court ruled in favor of the Philippines, stating that Beijing violated international maritime law and the Philippines' maritime rights when they built artificial islands in the West Philippine Sea (South China Sea). According to the international tribunal, the construction of the islands brought about the destruction of coral reefs and the disruption of fishing and oil exploration within Philippine territory.
READ ALSO: Let's not apologize for winning the West Philippine Sea
Source: Kami.com.ph