- Senator De Lima's office has denied accusations that she is protecting known drug lords
- A video went viral that suggested that the senator was rubbing elbows with a known drug tycoon Herbert Colangco
- It was proven that the man in the video was actually Rep. Alfred Vargas
After accusations of rubbing elbows with drug syndicates, the Office of Senator Leila de Lima has denied any involvement or relationship with Herbert Colangco, whom President Duterte has named as one of the biggest drug lords in the country.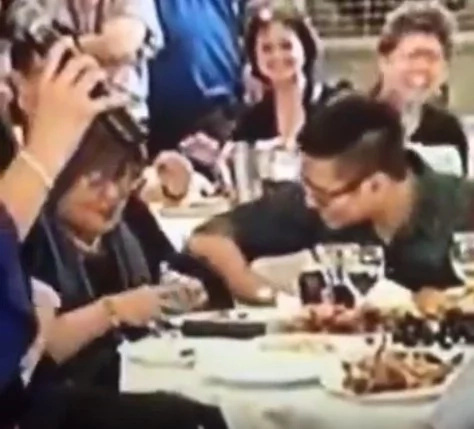 A video made its way online showing Senator Leila De Lima enjoying herself in a party singing the lines to "Bakit" by Imelda Papin in celebration of a birthday party where she was seen sitting near a man whom netizens suspect is Herbert Colangco, a suspected drug tycoon.
The video had a voiceover that suggested De Lima to be a protector of drug syndicates.
READ ALSO: Senators support Duterte's anti-illegal drug campaign
The Senator's office issued a statement that saying that the video was taken during De Lima's own birthday party held at the Department of Justice(DOK) quadrangle in August 2015.
The statement also clarified that the man wearing sunglasses whom she was seated next to was actually Quezon City Rep. Alfred Vargas.
Cong. Vargas also admitted and confirmed that he really was the man in the video.
READ ALSO: Jail guard nabbed after selling shabu to undercover operative
Another photo that scattered all over the web is a photo of the senator supposedly singing in a birthday party of a drugs lord. The senator's office discredited these allegations and said that the photos were taken during the concert party of Zaldy Aquino at Zirkoh last December.
Herbert Colangco has already been linked to a lot of bank robberies in Metro Manila and is currently in jail since 2009 at the maximum security compound of the New Bilibid Prison.
The video came out after De Lima vocally pushing for filing a resolution that would start a congressional inquiry and start to investigate the spate of killings of suspected drug users. -NB, Kami Media
READ ALSO: 'Bato' and SolGen, against De Lima's inquiry on drug killings
Source: Kami.com.ph