- Bob Arum promised that Senator Manny Pacquiao will indeed fight again in 2016
- Pacquiao has earlier denied reports of a boxing return, but Arum said that he is definitely fighting again in the fall of 2016
- Arum said that he is hoping to announce the date, venue and name of the opponent for Pacquiao's comeback fight in the coming week
Despite Senator Manny Pacquiao denying the recent reports of a comeback fight, his boxing promoter Bob Arum has continued to proclaim that the supposedly retired boxer will come back in the fall – which typically starts in September.
"Manny Pacquiao will definitely return in the fall," Arum promised.
The promoter added that a camp will be set up in the Philippines so that Pacquiao does not have to fly to the U.S. during his training camp with Freddie Roach like he did in his previous fights. Pacquiao usually spent half of his training in the Philippines and the other half in the Wild Card gym in the U.S. for his past training camps.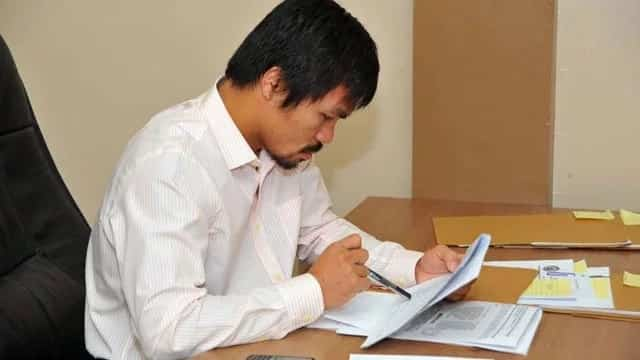 READ ALSO: Pacquiao to fight again? Sen. Manny plans to take leave of absence from Senate
Arum also confirmed his earlier pronouncement that Pacquiao will be taking a leave of absence from the Senate in order to train for the fight, calling the legendary boxer's retirement as "short-lived."
Pacquiao earlier denied the reports that he would be making a comeback this year, saying that his main priority at this time is his senatorial duties. However, Pacquiao did not completely close the doors on a possible comeback. He explained that if he ever returns to the boxing ring, it would not interfere with his duties as a senator.
READ ALSO: Pinoy boxer Pagara makes country proud; here's why
In the meantime, Arum is already securing a date and venue for Manny's next fight. He is also trying to find an opponent for the comeback.
The possible opponents for Manny Pacquiao include Terence Crawford, Viktor Postol, Adrien Broner and Jessie Vargas.
"If Manny wants to win a world title, Jessie Vargas, whose head isn't up his ass as far as the money, he realizes what is realistic money on pay-per-view now, which isn't what it was before," Arum said.
He revealed that Broner was actually the first choice for the comeback fight of Pacquiao but the deal did not push through due to a large amount of money the American boxer asked for.
READ ALSO: Is Albert Pagara the next Manny Pacquiao?
The long-time promoter is hoping to announce the definitive date, venue and choice of opponent for Pacquiao's boxing return in the coming week.
READ ALSO: Manny Pacquiao says 'yes' to death penalty by hanging; here's why
Source: Kami.com.ph