-A post in social media becomes subject from controversy once again and immediately become viral
-A woman posted a photo of her with another man as the caption read 'Hanging Out With Ex While My Boyfriend Is Busy With His Work'
-Later on it was learned the the post was just for fun, and that the guy on the photo was just a close friend of the boyfriend
Another controversial post on social media once again caught the attention of netizens and immediately went viral. A woman who posted a photo of her along with her 'ex-boyfriend' is now the subject of social media bashing.
It might seem harmless for a woman to have a photo with an ex-boyfriend but this post is on a totally different level as the caption read: "Hanging out with an ex while my boyfriend busy with his work".
This enraged many netizens and opened the gates to hateful comments. It's one thing to cheat on your boyfriend, it's another to publicly do it in social media. Such audacity seemed impossible yet, netizens were witnesses to the photo.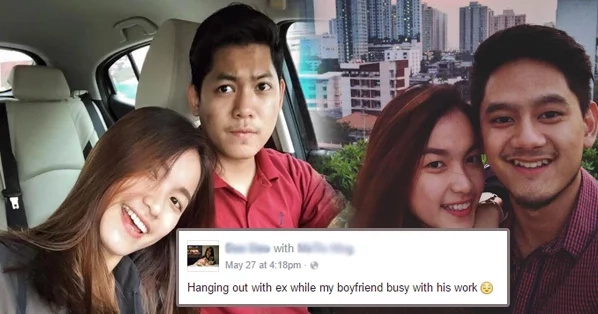 READ ALSO: Playful apes were caught on camera doing with the tourist shameless things
It seems that netizens, especially in the Philippines have very strong feelings against unfaithful people. Comments were full of negative and hateful messages, some comments tried to help enlighten the woman to set it straight with her boyfriend.
But upon investigation of her Facebook account, it was discovered that the man she was with in the photo was actually a close friend of her boyfriend and was not really his ex-boyfriend after all.
The woman revealed that the post was meant to be a joke and that she had no intention of hurting anyone. It seems that the boyfriend was aware too of this prank.
READ ALSO: This cute video of a dog in headphones will make you go AWWW!
It may have all been a farce but if there is anything we can take from this, it is that social media is not the right place to publicly make inside jokes like that.
It is definitely true what they say, that you ought to be very careful in what you post online. Whether you like it or not, people are going to come in and judge you. The best advice is to always keep your social media accounts private, and exclusive to people you actually know. - SK, Kami Media
Disclaimer: The views and opinions expressed in this article are solely those of the original author. These views and opinions do not necessarily represent those of Kami.com.ph, its editors, or other contributors.
READ ALSO: LOOK: Man with disability sells buko salad, photos went viral
Source: Kami.com.ph