Five mysteries in the Philippines that are still unsolved
There sure are odd phenomena that others claim to take place, though some are skeptical about such. In the Philippines, superstition can be considered as part of the culture, yet some events that took place in the past seem to be far from what people could imagine while some are still left unresolved up to now.
Here are some of the mysteries in the Philippines that has left people still in search for answers.
1. 'Amomongo'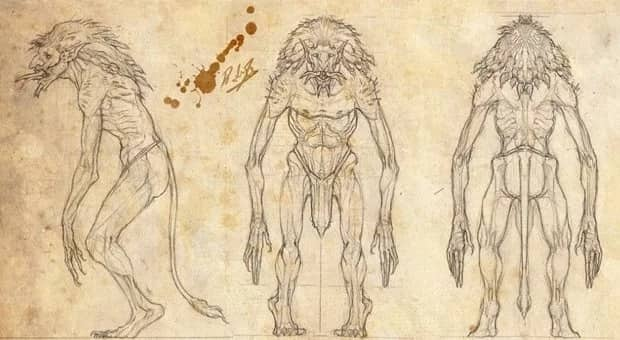 In 2008, two residents of Brgy. Sag-ang in Negros Occidental were said to be attacked by a creature described by the locals as "hairy with long nails". The victims were seen with numerous scratches in their face, abdomen and back.
A month before, another incident was reported, where not less than 50 chickens and one goat were found disemboweled.
'Amomongo', as described by the locals, is an elusive creature who, a few years ago, terrorized their town. This hairy white ape is said to be a size of a man and dwells in a cave.  What's weird about this is the fact that there has never been a native chimpanzee or gorilla identified in the Philippines.
The last albino gorilla that has stayed in the Philippines, known as 'Snowflake', died a decade ago which makes it impossible for another albino to be hiding inside the country's caves.
READ ALSO: 10 insane facts you didn't know about the human body
2. Antonio Luna's Assassination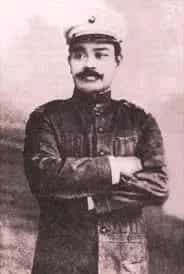 Known as the bad-tempered general, Antonio Luna was 'invited' by Emilio Aguinaldo in Cabanatuan to meet with him. Hearing gunshots, Luna rushed downstairs when a bolo knife suddenly struck his head. He received 30 wounds by either gunshots or steel weapons from soldiers of Cavite whom he knew well. Luna died with his companion, Col. Francisco "Paco" Roman.
Allegations were thrown at Aguinaldo, being the mastermind of the killing because of his 'jealousy' to the general. Capt. Pedro Janolino, who stuck Luna with the bolo knife, was known to be an ally of Aguinaldo.
Despite having suspected alleged murderers, no one was punished and no investigation has taken place since then.
READ ALSO: This boy has no arms or legs, see how he learned to use what he's got!
3. The "Chop Chop" Lady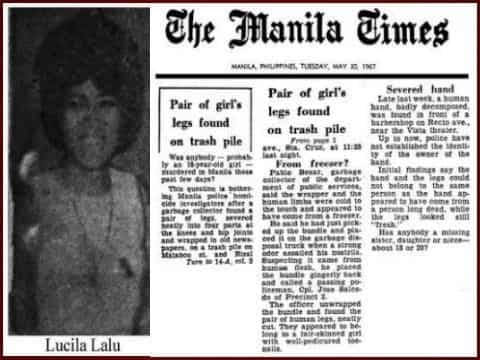 Lucila Lalu, at the age of 29, already owned two establishments: a restaurant in Rizal Avenue called Pagoda Soda Fountain, and a beauty parlor in Sta. Cruz Manila which she named after her, Lucy's House of Beauty.
On May 28, 1967, shock struck the whole nation as the first case of "chop chop" floated on the headlines. Lucila was killed and chopped and her body parts were found scattered around parts of Manila.
Lucila's legs were found chopped into four pieces and wrapped in a newspaper near her restaurant, while her headless body was found on a vacant lot along EDSA. She was carrying a one-month old baby inside during the time she was murdered.
READ ALSO: Playful apes were caught on camera doing with the tourist shameless things
Four men who were romantically linked were considered suspects, including Florante Relos, 19, who was a waiter in her restaurant; and his husband, Aniano Vera, patrolman. Two others emerged, a printing firm executive and Jose Luis Santiano, dental student, 28.
Relos and Vera were absolved due to lack of strong evidences against them.
Up to now, Lucila's case is still unsolved and her head is still nowhere to be found.
READ ALSO: Fear paralyzed his life, but Jesus came in and turned him into a fearless golf star
4. Bonifacio's bones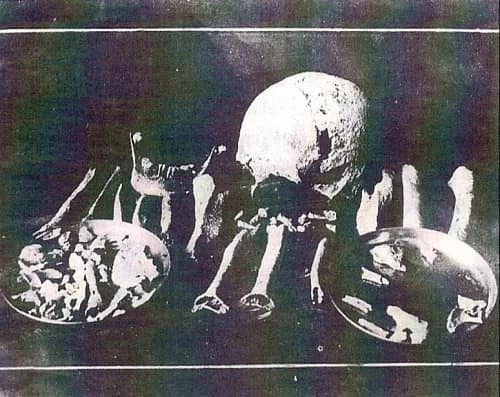 Andres Bonifacio and his brother, Procopio were sentenced to death after being proven guilty of treason by the revolutionary court. It is still argued by experts whether or not Aguinaldo ordered the execution of the two.
A set of bones was dug up in Maragodon Cavite back in 1918. The bones were bought to the University of the Philippines for an autopsy procedure which was led by Dr. Sixto de los Angeles. An interview with Bonifacio's youngest sister, Espiridiona Bonifacio, proved that the bones belong to Bonifacio.
In 1926, the bones were last seen in 1926, displayed at the Temple of the Legionarios del Trabajo when the bones mysteriously disappeared.
READ ALSO: [WATCH]Conspiracy theorists claim apocalypse: End of the world on July 29
People say that the bones were stolen while historian Ambeth Ocampo say that "they would not have stood closer scrunity". Others say the bones were cremated and deposited under Bonifacio's monument, while Lazaro Makapagal, one of those who buried the brothers' body after their execution, said in 1925 that the bones that were dug up were fake, explaining that resting place were somewhere in Maragodon Mountains.
5. Yamashita Treasure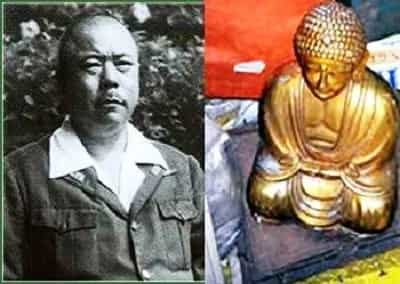 Japanese General Tomoyuki Yamashita has originally planned to hide his treasure in the Philippines before transferring it to Japan thru warships the moment American forces take over. But before he was able to transfer the said treasure, the General was executed.
Speculations about the treasure emerged, some doubting the existence of such. Rico Jose, University of the Philippines professor, said that the Philippines was no longer controlled by Japan in 1943, saying that bringing in something valuable given that the Americans were most probably to take over is non sense.
READ ALSO: WATCH: These presidential cars will let you travel back in time
On the other hand, Filipino hunter Roger Roxas believed that he discovered a part of Yamashita's treasure in Baguio, and it is confirmed by former First Lady Imelda Marcos that late President Ferdinand Marcos used and sold gold treasures for the countries survival in 1960s and 1970s.
There is still no further confirmation whether Yamashita treasure really exists in the country. - AA, Kami Media
READ ALSO: 'Magnetic Man' has bizarre powers in his body. Metal things really stick to him
Source: KAMI.com.gh