- After President Rodrigo Duterte begs off from the Asia-Europe Meeting in Mongolia, Foreign Secretary Perfecto Yasay Jr has gone on his behalf
- Yasay, despite China's objections, raised the issue on the territorial dispute regarding the West Philippine Sea
- China maintains its stand on the arbitral tribunal ruling and hopes that the Philippines will denounce the ruling and return to bilateral talks
Despite China's objections, Philippine Foreign Secretary Perfecto Yasay Jr. raised the issue on the disputed West Philippine Sea at the 11th Asia-Europe Meeting (ASEM) of Heads of State and Government in Ulan Bator, Mongolia on Friday, July 15.
In his speech, Yasay went over his earlier statement saying that "The Philippines strongly affirms its respect for this milestone decision as an important contribution to ongoing efforts in addressing disputes in the South China Sea."
The secretary, despite China's insistence on saying that Mongolia is 'not the appropriate venue for the PH-China territorial dispute', went on to say that the Philippines "shall continue to engage concerned parties to find ways to reduce regional tensions and to build greater trust and confidence. In this regard, the Philippines will continue fostering mutually beneficial relations with all nations."
READ ALSO: Let's not apologize for winning the West Philippine Sea
Despite his decision to openly defy China in the ASEM, Yasay called on to Filipinos and Chinese to exercise restraint and sobriety saying that restoring trust and confidence among the regions is of importance to the country.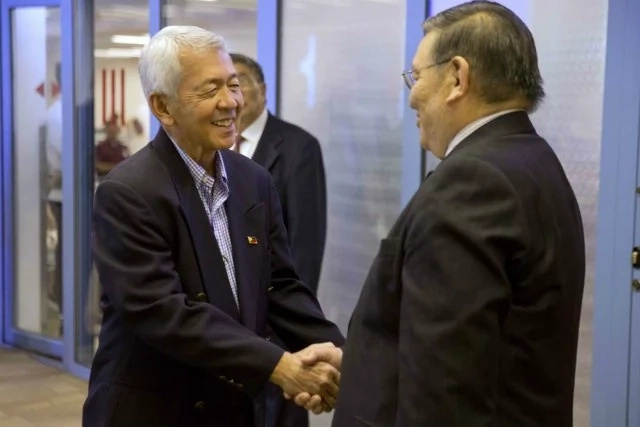 (Photo credit: Rappler)
Yasay's statement regarding the need for the parties involved to respect the arbitral ruling came after Chinese Assistant Foreign Minister Kong Xuanyou had insisted that the ASEM meeting is "not an appropriate venue" to discuss the West Philippine Sea.
China, despite its resistance to any form of negotiation with the Philippines, if the country will not set aside the arbitral tribunal ruling, insisting that the Asia-Europe Meeting (ASEM) in Mongolia is 'not an appropriate venue' to discuss the South China Sea.
READ ALSO: LOOK! Duterte's new economic adviser wants to lease islands to multi-nat'l corps
"China expects the new Filipino government to cooperate and recognize that the ruling is nothing more than a piece of waste paper and cannot be enforced. China hopes that the Filipino side will set aside the award and return to the negotiation table," Chinese Vice Foreign Minister Liu Zhenmin said.
In reaction, the Philippines reiterated that it "will not concede" the ruling despite China's refusal to heed the decision. - Kami Media
RELATED: WATCH: Duterte speaks his mind about China and the West Philippine Sea
Source: Kami.com.ph