- Brillante Mendoza has finally been confirmed to direct President Rodrigo Duterte for his July 25 SONA
- According to Mendoza, he will showcase through the SONA how natural and authentic Duterte really is
- A photo slideshow of Mendoza meeting with PCO secretary Martin Andanar was shared on social media
The reports about award-winning filmmaker Brillante Mendoza being assigned to direct the very first State of the Nation Address (SONA) of President Rodrigo "Rody" Duterte have finally been confirmed.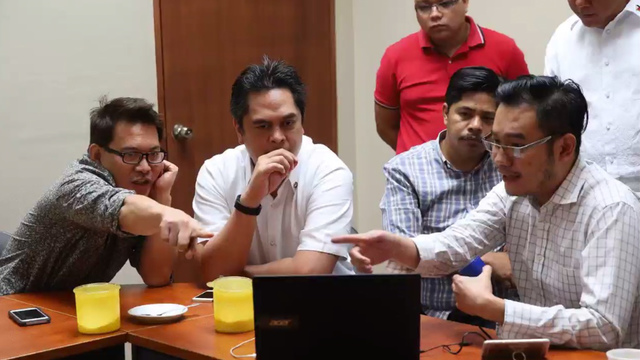 Late in June, Andanar and Mendoza revealed that the director had been offered the job of directing the SONA. However, the two said that it was merely an invitation at the time.
A video was shared on the Twitter account of the Presidential Communications Office (PCO), which shows a series of photos of Mendoza meeting with PCO secretary Martin Andanar about the SONA, which will be held on July 25.
READ ALSO: What Jaclyn Jose has to say to her bashers on her Cannes win
According to Mendoza, he is planning to showcase the honest, authentic and simple nature of the President through his highly-anticipated SONA.
"Ipapakita lang natin ang natural, ipapakita kung papaano siya makipag-usap sa mga tao at kanilang tunay na reaksyon. Kung baga walang embellishment," Mendoza told ABS-CBN.
(We will just make it natural, we will show how he naturally talks to people and how they really react to him. There will be no embellishments.)
READ ALSO: Cannes-winning director to direct Duterte's first SONA; guess who!
Mendoza, an award-winning director, is one of the most critically acclaimed filmmakers in the Philippines. His movies such as "Kinatay" and "Thy Womb" have been widely-praised at major international film festivals.
He won the prestigious best director award at the 2009 Cannes Film Festival for "Kinatay," a movie which starred Coco Martin. His latest movie starring Jaclyn Jose, "Ma' Rosa," also received tons of praise from critics. Jose was able to pull off an upset victory over international superstars by winning the Best Actress award.
READ ALSO: Cannes Best Actress returns to PH
Mendoza's other notable films include "Service," which was nominated as Best Movie in the 2008 Cannes Film Festival, "Grandmother," and the 2012 movie "Captive."
To prove the finality of the offer, a Twitter post, with caption "PCO Secretary [Martin Andanar] and [Brillante Mendoza] prepare for #PresidentDuterte 1st SONA. #PartnerForChange" has been made.
RELATED: Ma'Rosa screening date in PH cinemas announced
Source: Kami.com.ph