Bedista lawyers can take other vice-related litigation cases
- Since becoming the president, Rodrigo Duterte has prioritized his campaign against illegal drugs
- Duterte, at a dinner reception hosted by his alma mater, told his fellow Bedistas that they should not be involved in drug lord-related cases
- He suggested that lawyers coming from other schools, such as from U.P. or Ateneo, get these cases instead
During his testimony at a dinner reception at Club Filipino yesterday, President Rodrigo Duterte told his fellow San Beda lawyers to not get involved in drugs in any way.
Aside from the literal statement, the tough-talking president also meant that his fellow Bedistas should not represent these drug lords in case these criminals want to appeal in court.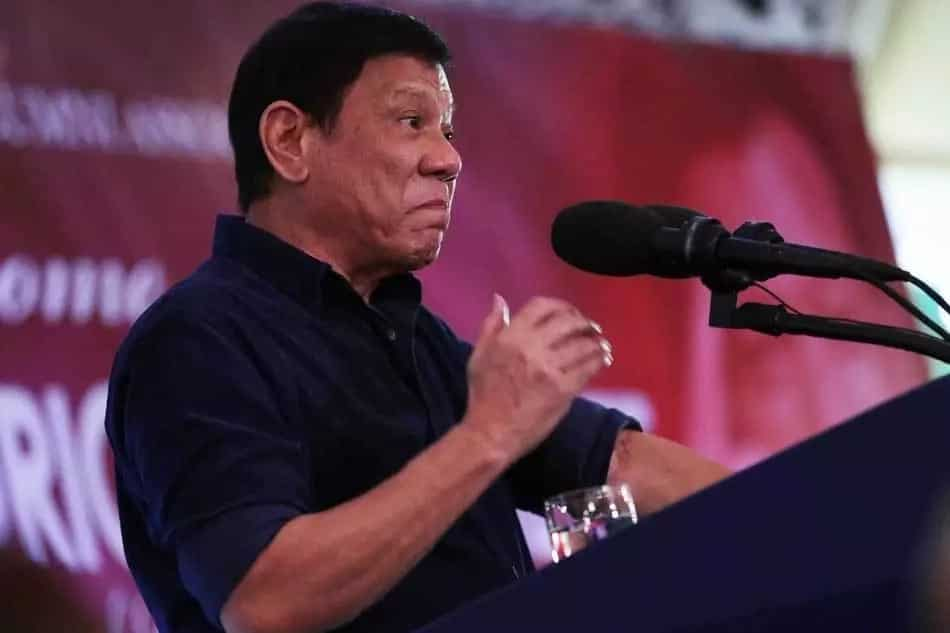 "Pero basta ako iwas lang kayo diyan sa mga (drug lords). Huwag naman 'yang mga drug lord. Susmaryosep. Maraming kaso diyan na pakialam mo, ibigay mo doon sa iba. Ibigay mo doon sa taga-U.P., pati Ateneo," he said.
READ ALSO: [VIDEO] Duterte: Don't ask due process from me, I am not the court!
(Just avoid those (drug lords.) Do not choose those drug lords, my goodness. There are many cases you should not look into, and give it to others instead. Give it to those coming from U.P. and even Ateneo.)
He also said that their position might be compromised if they would take these drug lords under their wing, especially since these drug lords were usually the ones who directed on how their cases should go. He reiterated that their position is far from practicing the law, and they should just go to the court with lawyers who did not come from his alma mater.
The president also attested to the event, which was sponsored by the San Beda Law Alumni Association, that his colleagues from Davao City agreed with his statement.
READ ALSO: Senators support Duterte's anti-illegal drug campaign
"Ayaw nila (Davao lawyers) kasi alam nila ayaw ko e. So 'yung mga abugado nila (drug lords), sa labas. Nothing significant but that was the practice," Duterte shared.
(They (Davao lawyers) do want to handle the cases because they know that I do not like it as well. So the lawyers of these drug lords came from outside (of Davao). Nothing significant but that was the practice.)
However, the president said that Bedista lawyers can take other litigation cases regarding other vices.
READ ALSO: LOOK: 'Bato' reveals who ordered vigilante killings
"'Yung mga seduction, mga abduction with consent, sakit talaga ng Bedista 'yan. Okay 'yan. Adultery, okay 'yan. Concubinage. Yours truly, meron din eh. Hindi naman tayo mabubuhay diyan kung ano," he said, eliciting laughter from the audience.
(Seduction, abduction with consent, that has been the sickness of every Bedista. It's alright. Adultery is fine. Concubinage. Yours truly, I have as well. We won't live here if we can't.)
Since assuming position last month, President Rodrigo Duterte has prioritized his campaign against illegal drugs. He has initially set a bounty worth 5 million for those who can capture drug lords, dead or alive. The police have been on the case as well, who has either captured or killed small-time drug users and peddlers almost on a daily basis.
These drug-related killings have aroused suspicion in some, with Leila De Lima calling for probe if the alarming increase of slain drug users might have been done beyond police supervision. The Philippine National Police (PNP), particularly its new head Ronald 'Bato' Dela Rosa and Solicitor General Jose Calida, expressed their disapproval with the senator's suggestion, along with other members in Congress who thought that there are more pressing matters that should be focused on instead.-Kami Media
READ ALSO: Drug suspect killed during buy-bust operation in Caloocan
Source: KAMI.com.gh