- A group of fishermen were at the Colorado River expecting to catch some fish
- Surprisingly, they witnessed an epic battle between a water snake and a catfish
- The snake had its fangs on the catfish's middle, bringing the catfish out of the water, seemingly trying to suffocate it
It is not often that you get to capture once-in-a-lifetime footages on camera, but for Bruce Burns, what he recorded was exactly one of them. Happening right at his feet was the epic battle between a water snake and a giant catfish. Obviously, the water snake wanted to eat the catfish yet it seems that it was just too big for the sly reptile.
The water snake took on the huge catfish despite the latter's size, being way too big for it. Unlike many of the previous meals of this water snake, which may have not given it such a hard time swallowing, the catfish was also determined not to feed the snake's hunger for several days.
The giant catfish with all its might can be seen struggling against the snake in the video. The more that the catfish struggled, the harder also it became for the snake to swallow it.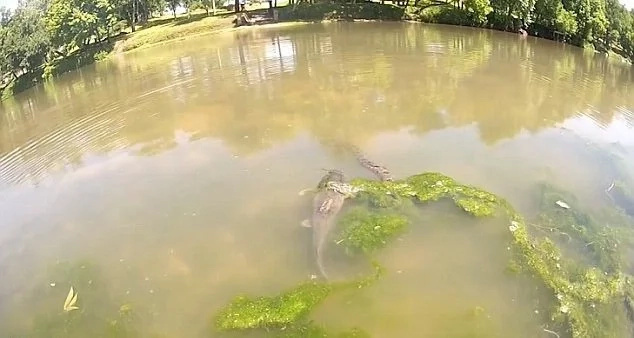 READ ALSO: It looks like a huge snake. But take a closer glimpse and you'll be amazed!
For a while, the Colorado River became a huge battleground for the two fierce water creatures. The snake, knowing that it has some advantage kept on holding on to the middle of the catfish. The catfish on the other hand had no plans to make it so easy for the water snake.
Bruce, the guy who posted the video, was together with some fishermen when they saw the battle. As to whether the two creatures have been fighting for a number of minutes prior to their arrival wasn't quite clear. The only thing was that they managed to capture the scene and got it all on video.
One can hear the cameraman saying, "That's a catfish in his mouth I don't know why he thinks he is going to eat that but holy cr**!"
READ ALSO: Incredible two-headed cobra discovered in China!
Although one can't clearly determine what the plan of the snake was, it would seem that it was trying to let the catfish stay out of the water so that the latter will be suffocated. If this is the snake's plan, then it must be quite one smart reptile.
As to which between them won can be anybody's guess because the video was cut short before the last part of the battle can be witnessed by 2.6 million viewers on YouTube. - SD, Kami Media
READ ALSO: LOOK: 4 cobra tried to enter family's home; what the pet dog did will make you cry
Source: Kami.com.ph