Did Marcos just admit to engaging in corruption?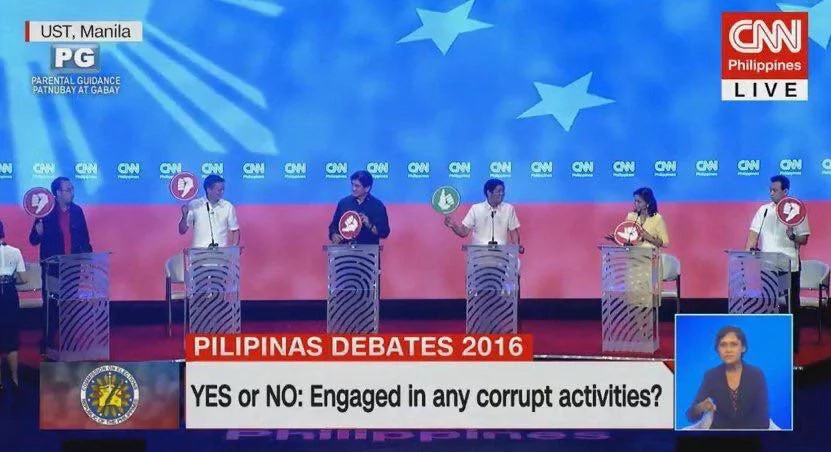 During the vice presidential debate, the candidates were asked if they have ever engaged in corruption. The candidates will indicate their answer by either raising a green thumbs up sign if their answer is yes, or a red thumbs down if their answer is no. Marcos signified yes. At least for a few seconds.
Prior to signifying yes, Marcos vehemently denied any involvement in any form of corruption. He said that his name has never been besmirched with any allegation of corruption. His statements directly contradict his brief admission to corruption. Was this an honest mistake or a Freudian slip? One thing is for sure though for a netizen, "it was the most honest five seconds in Philippine politics!"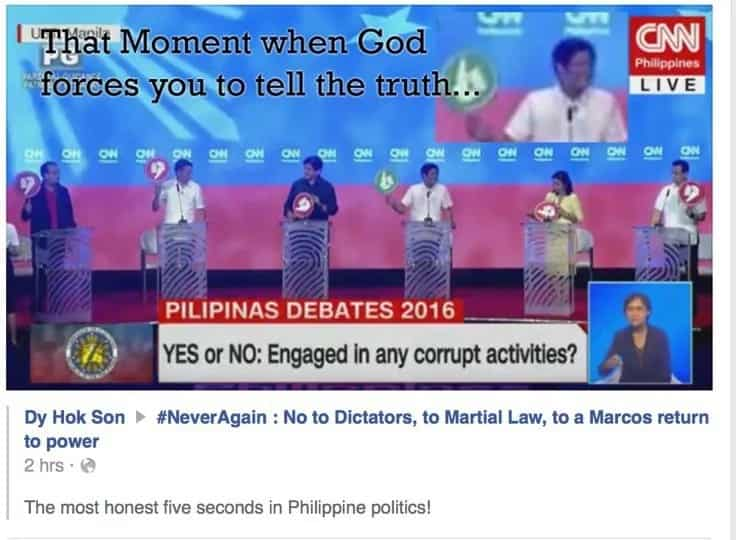 A Freudian slip is an error in speech, memory, or physical action that is interpreted as occurring due to the interference of an unconscious subdued wish or internal train of thought. It is possible that Marcos knows that he was involved in corruption but he wants to hide it by saying otherwise. It is in unguarded moments that these slips supposedly reveal the real secret thoughts and feelings that people hold.
Here are just a few modern day examples of famous Freudian slips according to psychology.about.com:
A. During a televised speech on education, Senator Ted Kennedy meant to say that "Our national interest ought to be to encourage the best and brightest." Instead, Kennedy accidentally said breast - his hands even cupping the air as he said the word. While he quickly corrected his gaffe and continued, the slip of the tongue seemed revealing considering his hand gestures and the family's reputation for womanizing.
B. During a Vatican sermon in 2014, Pope Francis accidentally used the Italian word "cazzo" (which translates to "F***) instead of "caso" (which means "example"). The Pope quickly corrected himself, but not before the slip posted on dozens of websites, blogs, and YouTube videos.
C. At a Washington D.C. dinner party, then National Security Advisor to President Bush stated, "As I was telling my husb—as I was telling President Bush." The Freudian slip seemed to reveal perhaps some hidden feelings the unmarried Rice might hold toward her boss.
D. When actress Amanda Seyfried appeared on the Today show to promote the film Ted 2, announcer Willie Geist accidently described her as "titsy" rather than "ditzy." Besides simply being an amusing slip, the comment perhaps revealed what was really on his mind.
Source: KAMI.com.gh