- President Rodrigo Duterte promised PNP and AFP personnel during his election campaign that he would double their salaries
- However, Budget Secretary Benjamin Diokno said that the budget proposal for 2017 did not include the salary increase for the police force and the armed forces
- Diokno explained that there are more pressing financial matters to handle first before the government could increase their salaries
One of the most integral parts of President Rodrigo Duterte's election campaign was his promise that the salary of the Philippine National Police (PNP) and the Armed Forces of the Philippines (AFP) would be doubled. However, Budget Secretary Benjamin Diokno said on Thursday that the government would not be able to fulfill this promise for now since the P3.35-trillion budget proposal for 2017 did not allocate for such a purpose.
"There's none. It's not included," the budget secretary admitted.
During his campaign, Duterte said that one of his plans for making the police force and the armed forces more effective and efficient is by significantly increasing their salaries.
READ ALSO: LOOK: 'Bato' reveals who ordered vigilante killings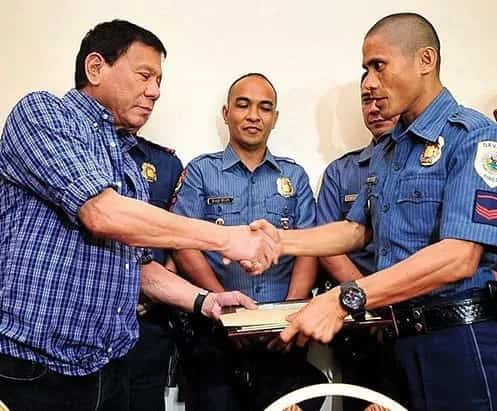 According to Duterte, that plan would discourage PNP and AFP personnel from engaging in illegal practices such as protecting the criminal activities of drug lords. The President also offered a financial reward of P5 million to policemen who would be able to kill drug lords.
Diokno explained that these campaign promises will not be prioritized for now because the Duterte administration has to address other important financial issues involving the AFP and the PNP.
"The problem is that the government already owes so much to the pension fund of the (soldiers) and policemen. It has ballooned," Diokno said.
READ ALSO: Find out what triggered the proposed shift to federalism, according to former senator Pimentel
However, Diokno added that the Duterte administration is studying if they could increase the pay of soldiers and policemen next year since that is part of the Salary Standardization Law signed by former President Benigno Aquino III.
According to the budget secretary, he would announce in two weeks' time how the how the Department of Budget and Management would deal with the issues regarding the pay increase and problems with the police and military pension for retired officers, which he says is higher than the salary of current personnel.
RELATED: What does Trillanes have to say on Ombudsman's charges against Binay?
Source: Kami.com.ph