Biazon files resolution to recognize Aquino's West PH Sea effort
- Philippines won over China in the arbitration case regarding the West Philippine Sea territorial dispute
- Muntinlupa City Representative Rufino Biazon filed a resolution in recognition to former President Benigno Aquino III and the Philippine officials for defending the case
- Biazon referred to the ruling as a "victory for the Philippines and a triumph for the rule of law."
A resolution to give recognition to the incumbent president, Benigno Aquino III, and the team of Philippine officials who participated in the arbitration case of the West Philippine Sea was filed to the Congress on Wednesday.
Muntinlupa City Representative Ruffino "Ruffy" Biazon filed the resolution, saying that former president Aquino and the Philippine team should be recognized for defending the case on the territorial dispute of the Philippines against China in the Permanent Court of Arbitration (PCA) in The Hague.
"They deserve the highest accolades and gratitude of a thankful nation for the patriotism and nationalism which they displayed as they stood up for the rights and interests of the Filipino people in the defense of the Philippine case," Biazon stated in his resolution.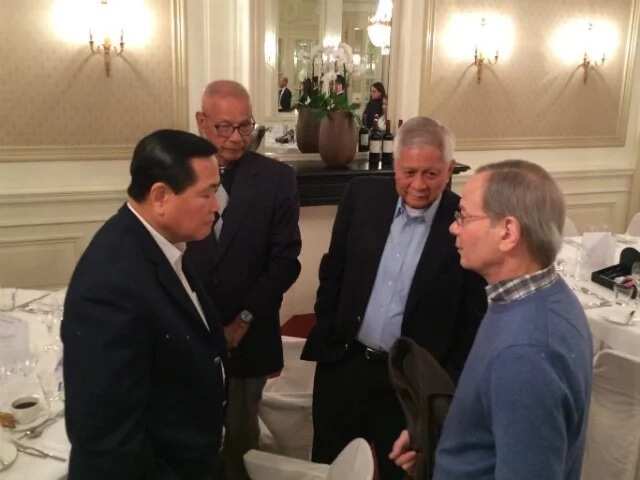 READ ALSO: Chinese President to army: 'Prepare for combat'
Biazon added that the former president Aquino provided the leadership in pursuing and defending the interests of the Philippines in the case of the West Philippine Sea and that he fought in a peaceful manner and took into account the international laws and principles.
The Philippine officials from government agencies namely the Department of Foreign Affairs (DFA), the Justice Department, and the Office of the Solicitor General, according to Biazon, should also be recognized for their "dedication, expertise, and professionalism… that led to the efficient and effective handling" of the West Philippine Sea case.
READ ALSO: Find out how Asian countries reacted to PH vs China ruling
The Philippine delegation from the executive, legislative, and judicial branch of the government include Foreign Secretary Albert del Rosario, Supreme Court Senior Associate Justice Antonio Carpio, Supreme Court Associate Justice and former Solicitor General Francis Jardeleza, Muntinlupa Representative Rodolfo Biazon, Chairman of the Committee on National Defense and Security of the House of Representatives, Solicitor General Florin Hilbay, Political Affairs Secretary Ronald Llamas, Security Cluster Executive Director Emmanuel Bautista, and Deputy Executive Secretary Menardo Guevarra.
Biazon described the ruling as timely and hoped that it will stabilize the West Philippine Sea situation and the entire Asian Region, and that the tribunal's ruling is a "victory for the Philippines and a triumph for the rule of law." – AA, Kami Media
READ ALSO: LOOK: PH victory vs China celebrated by Vietnamese nationals
Source: Kami.com.ph