Actor Julio Diaz on verge of death; sister appeals for help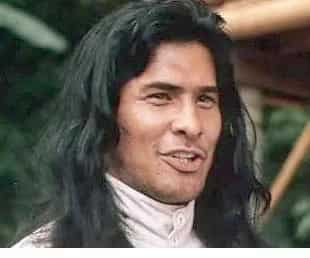 Film and television actor Julio Diaz, 57, was rushed to the hospital last Friday night, April 8, after he lost consciousness due to a severe headache. Close friends and relatives suspect that he had a stroke. Director Brillante Mendoza, a friend and long-time collaborator, believes Julio had suffered a heart attack.
Ana Marie Datuin, Julio's sister, has posted a campaign on gofundme.com to raise money for an emergency surgery. According to her post, a CAT scan revealed a swollen vein that needed surgery within the next 24 to 48 hours - otherwise, Julio would suffer an aneurysm which, in turn, may cause fatal damages.
Today, April 10, a new post on gofundme.com informed the web that Julio was already admitted in St Luke's Hospital Global City and as of 1pm Manila time (1pm EST), is undergoing an angiogram procedure. If the procedure does not work, they will proceed with the surgery.
Julio Diaz - whose real name is Marnie Regaliza - has starred in more than 50 films. He is famous for starring in the films "Sinner or Saint", 'Paano Tatakasan ang Bukas", "Kailan Ka Magigin Akin", "Bayani", "Sakay", and many more. In his semi-retirement, he continues to leave his mark on the movie industry with indie projects. Last 2015, he worked with Mendoza in the film "Taklub," a docu-film on the survivors of the Supertyphoon Yolanda. The film won the Ecumenical Jury Prize - Special Mention at the Cannes Film Festival in May last year.
Below is Ana Marie's campaign post, describing Julio's condition and current lifestyle in detail as well as the urgency for funding.
"My name is Ana Marie Datuin. I am the sister of Marnie Regaliza or better known in the Philippine movie industry as Julio Diaz. I am raising this money for Marnie or Julio to be used for immediate medical attention. Last night he was rushed to the hospital (April 8) after passing out due to a severe headache. A CAT scan showed the swelling of a vein that needs surgery within the next 24 - 48 hours. If the surgery is not performed, an aneurism is imminent which may lead to fatal damages."
"In his semi-retirement from the movie industry, Julio lives a simple lifestyle in a modest home he owns in the province of Bulacan. His only companion is his half sister Shirley, whom he helps out in raising her son. During the 80s through early 90, Julio has done several action and drama movies in the Philippines. If not involved in filming an indie project, his main and only source of livelihood these days is from rental of part of his house. Among Julio's most popular movies are; The Flor Contemplacion Story with the Philippine legendary actress Nora Aunor."
"He also played lead roles in 2 of Philippines' renowned historical films "Bayani" and "Sakay", both of which are now frequently used as references for Phiippine historical studies among high school and even college students. Said films were directed by Cannes Film Festival's Palm D"Or Awardee Raymond Red. Julio also acted on stage plays, the most popular of which was "Tarantula", where he shared the stage one-on-one with the late actor/director/stage thespian Mario O'Hara."
"Julio has a very small window of opportunity to get the surgery done to save his life. This surgery however needs a huge amount of money that Julio does not have right now. This is the reason why, I am stepping in on his behalf appealing to anyone who is being led by the Lord to give any amount they can to raise the money needed to get the surgery performed within the next few hours."
"Your kind generosity will be very much appreciated. May the Good Lord from His richness
According to the website's last update, 7,837 out of the 25,000 dollars needed has already been raised for the actor by 180 people in the last 21 hours. If you want to participate in raising awareness and funding for Julio Diaz, the link to the campaign website is here.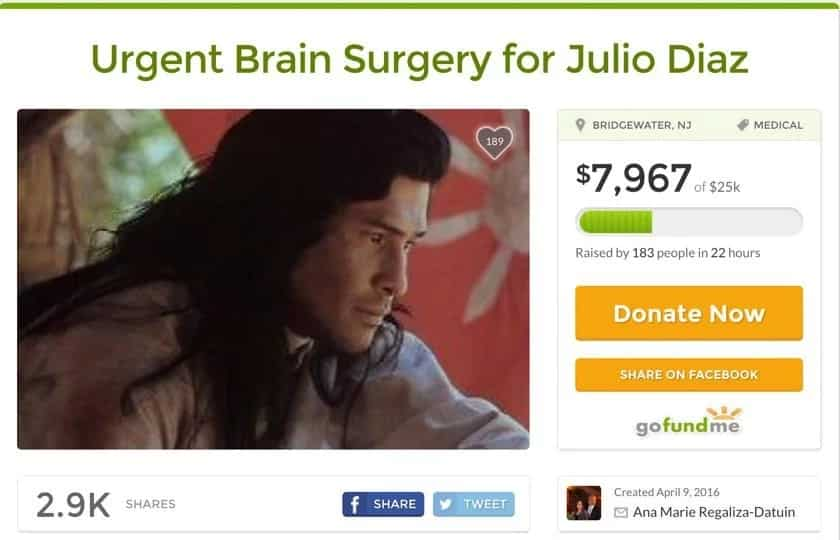 Source: KAMI.com.gh