EXCLUSIVE: Odd ballots? 'Daang Matuwid' affixed to Mar-Leni names
HIGHLIGHT: Overseas filipino workers (OFWs) have started to vote Sunday, April 9. But a few of them noticed something odd about the ballots -in particular the inclusion of the administration campaign banner 'Daang Matuwid' when other candidates' names only have the acronyms of their political parties enclosed in parenthesis.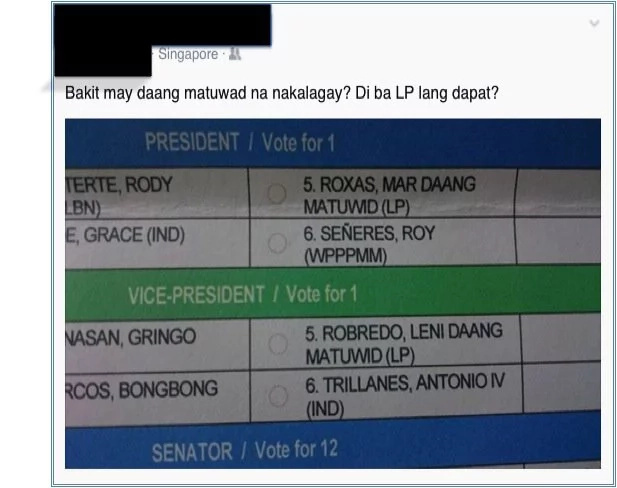 A Filipino working in Singapore posted the ballot she received sent via home mail, it showed candidate choices and their political parties, as well as independent statuses for their bid. She was wondering why there seems to be a discrepancy in the ballot, also questioned by commenters.
They ask why Daang Matuwid (The Right Path), the slogan of the administration also being used as campaign promise of administration standard bearer Mar Roxas and his running mate, was in the ballot when the others only have three to 6 letters which stand for the acronym of the other parties.

Liberal party  or LP is the ruling party after President Aquino won 6 years ago.
What could be the reason for this? As of now, speculations are flying...
A commenter suggests that it could be a ploy to win the elections dirtily.

Others joked that Roxas and Robredo could have been first cousins with 'Daang Matuwid' as maiden surnames.

The spokesperson of COMELEC, James Jimenez, addressed the issue in a Twitter response.
But the candidates' camps are still silent on this particular matter.
The voting of abroad-based Filipinos will run until May 9, the day voting will be opened in the Philippines.
Photo Credits: PASEI/Pinoy OFW news
Source: KAMI.com.gh